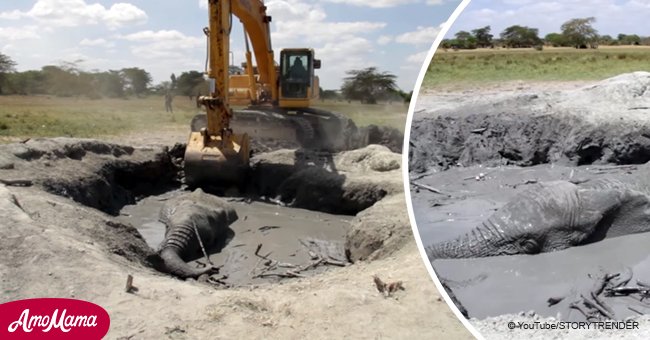 Footage shows elephant rescued from a mud pit
The poor elephant had been stuck in a mud pit for 12 hours.
The large mammal seemed to be on the brink of despair when the rescuers came.
Local farmers in Makindu in Southern Kenya were shocked when they found the elephant.
The dramatic rescue was captured on video, which was posted to YouTube on March 3, 2015.
Using a back hoe, a digger came to save the large mammal, who had been desperately trying to escape from the deep mud pit for hours.
The clay sides were too steep. The elephant had grown too tired trying to climb out of it.
Wildlife conversationists came to the rescue. They called a construction firm to ask for help. Using a crane, a worker from the construction dug the side of the pit to allow the elephant to climb out of it.
Jeremy Goss, a conservation scientist and wildlife photographer, documented the rescue on a farmland bordering Chyulu Hills National Park.
The clip, running for less than two minutes, had been viewed more than six million times.
Many netizens posted positive comments.
Helly Dunlop commented: 'This day in Kenya was wonderful... Since one of the nicest things of this world is to observe nature at its finest.'
Others were amazed by the manner in which the elephant was rescued.
John Meda said: 'Wow I feel stupid. I was thinking this would be way more complex, like grabbing a crane and lifting the elephant out or something. Didn't think it'd be as simple as digging a small ramp for it to walk out of.'
This is a heart-warming video, especially since many elephants have been killed because of poaching.
An estimated 35,000 elephants were killed last year in Africa. According to African Wildlife Foundation, elephants may go extinct within our lifetime at current poaching rates.
Please fill in your e-mail so we can share with you our top stories!