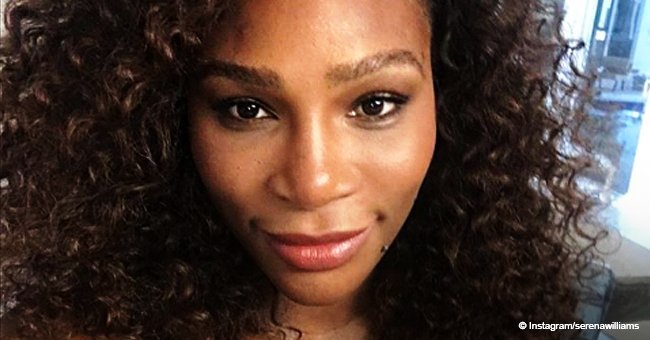 Serena Williams' daughter looks adorable in red T-shirt & ponytail in photo with her 'pal'
Alexis Olympia, who is the daughter of superstar tennis player Serena Williams and Reddit co-founder Alexis Ohanian, looked beyond adorable in her ponytail. She is held by Serbian professional tennis player Novak Djokovic.
Celebritist learned from "Instagram" that the photo of Olympia, who was born in September 2017, was shared to her official Instagram account. The caption quite casually refers to Djokovic, who is ranked world no. 22 by the Association of Tennis Professionals, as her "ole pal"
"That time I met @djokernole you know my ole pal."
It's not surprising that Olympia can count one of the world's best male tennis players as her friend - if you take into account that her mom is a legend on the tennis court. But the detail that got fans swooning was the little girl's adorable ponytail.
"Her ponytail omg..omg like she is a boss we can see it already."
"Omg her hair is just tooooo cute."
"Omg, you're wearing ponytails."
Alexis Olympia is growing up before our eyes and there's no doubt that Serena and Alexis are doting parents. However, during her pregnancy Serena told "Vogue" she worried that she wouldn't be a good mother. It seems the self-doubt and worry was replaced with unconditional and unwavering love when Olympia was born.
"We're not spending a day apart until she's eighteen. Now that I'm 36 and I look at my baby, I remember that this was also one of my goals when I was little, before tennis took over, when I was still kind of a normal girl who played with dolls."
Although Serena admits that it's tempting to just be a mom for the rest of her life, she can't shake her trademark ambitiousness when it comes tennis.
"Maybe this goes without saying, but it needs to be said in a powerful way: I absolutely want more Grand Slams. I'm well aware of the record books, unfortunately. It's not a secret that I have my sights on 25."
Once Serena reaches the 25 mark she'll beat the record currently held by Australian tennis legend Margaret Court, making her the undisputed greatest of all time. Achieving this goal is a big possibility for Serena, but in the meantime her daughter is breaking all the cuteness records there are!
Do you also think Alexis Olympia's hairstyle is adorable?
Please fill in your e-mail so we can share with you our top stories!