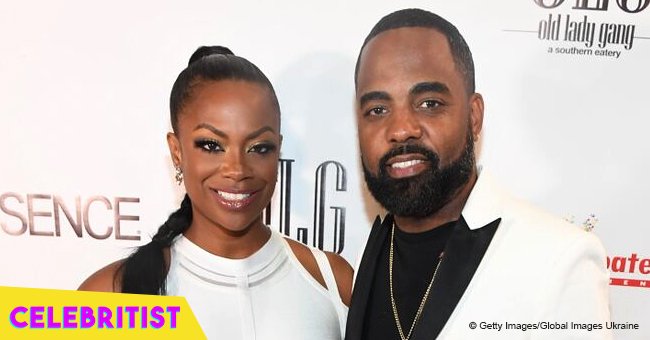 Kandi Burruss and Todd Tucker support little son Ace during swimming lessons in new video
"Real Housewives of Atlanta" star, Kandi Burrus, is a proud mom as she recently shared a video of her youngest son, Ace Tucker, taking swimming lessons. The Little boy is doing amazing, and he has the support of his parents poolside, watching him get better with every new lesson.
Celebritist was lurking around Kandi Burrus' and Todd Tucker's Instagram accounts to see what the couple has been up to these days and we stumbled with a series of videos of the Smart two-years-old boy learning how to swim.
Kandi's decision to put her son on swimming lessons so young has been applauded by many fans since they believe Burrus is doing an amazing job by teaching her kid how to protect his life in case of an accident by a swimming pool or the sea.
In the clips, Little Ace is shown swimming facedown after being pushed down a slide by his instructor, and he is showing his incredible abilities, even though he doesn't seem to be happy about the whole situation.
In another clip, Ace is seen jumping to the pool with the help of the teacher and then turning around immediately to grab the poolside. This technique is clearly a lesson in case the baby boy slips to the water accidentally.
Kandi wrote in the caption of one of her videos how proud she is of the boy:
"My baby @acewellstucker hates doing his swim lessons but it's so worth it. Thanks, @justusswimkids for being so patient with my baby."
And in another:
"Not happy with this slide.... but I still have to learn how to save myself if I ever fall in the water. @justusswimkids"
Ace is not only taking swimming lessons, as Kandi recently shared other videos of her talented son playing drums. Is clear that Ace's parents are looking out not only for the boy's safety but also for his future by giving him plenty of options from an early age so he can develop his talents from an early age.
Keeping Ace busy also helps Kandi, since she always has a busy schedule thanks to her musical endeavors, the reality show recordings and the rest of the businesses she runs.
Ace is doing amazing and we're glad to know he has such caring and loving parents that are looking out for his safety.
What do you think of little Ace's abilities on the water?
Please fill in your e-mail so we can share with you our top stories!