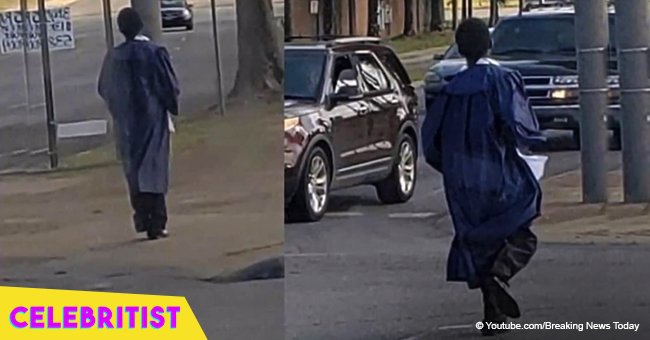 Teen spotted walking to high school graduation in viral photo was gifted a car
Corey Patrick, a 19-years-old young man from Alabama, became viral on the internet last week after he was photographed making his way to the bus stop in his graduation gown so he wouldn't miss his ceremony. Rickey Smiley, a famous local radio host, made sure to compensate the boy's efforts by gifting him a car.
Celebritist learned from the Daily Mail the story of Corey Patrick, a teenager that was so determined to get his diploma from Tarrant High School alongside his friends that he sacrificed his sleeping time in order to be on time to school despite living 10 miles away from it.
Patrick's family moved to the West End neighborhood before his senior year, and even though it would take him roughly 90 minutes to get from his home to school every day, he committed to finishing high school with his friends.
Though his senior year, Corey woke up everyday at 4:30 am to walk to the bus stop that would take him to his school, and since his family doesn't own a car, he had to the same on his graduation day, and he did it on style, wearing his graduation gown and cap with pride while riding the public transport.
A passerby snapped a picture of the young man fully dressed in his gown and making his way to the bus stop, and the photo became viral instantly. His mother, Felicia White, revealed that the rest of the family eventually found a way to get to the graduation.
"He's a great young man. He's very quiet reserved, humble and he gets a little hardheaded sometimes, but he's a very obedient child and I'm proud of Corey."
After catching wind of the picture, local radio host Rickey Smiley asked his followers to help him locate Corey, and when he did, he surprised the teenager and his family with a car, assuring his help to get his driver license as well.
"Little buddy wanted nothing doing this, trying to get no hype on the internet or trying to get no hype on the radio. He did it because he wanted his high school diploma."
A GoFundMe page has also been created for the teen and has raised over $16,000 until now, surpassing the initial goal which was $10,000. Corey has been awarded a scholarship to Jacksonville University, and he plans to study computer science.
Corey's determination is truly admirable, and we're glad he was able to reach one of the milestones of his life thanks to his effort. Now, as he embarks on a new journey, he'll have more opportunities thanks to the donations of people that felt touched by his story, and we're sure he'll conquer his next goal successfully.
What do you think about Corey Patrick's story?
Please fill in your e-mail so we can share with you our top stories!