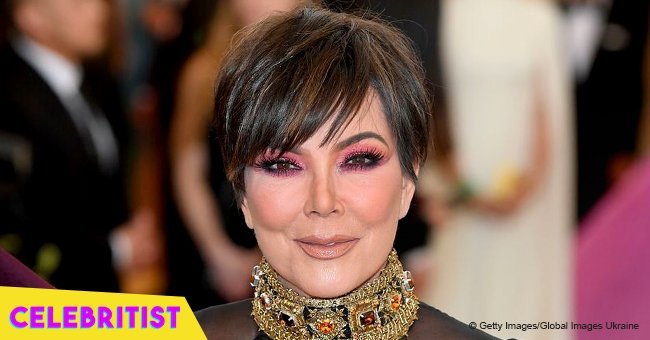 Kris Jenner shows off her Versace outfit in recent pic but gets dragged for photo fail

Kris Jenner posted her Versace outfit in hopes of flaunting her style. However, she gets dragged by fans after the photo she posted made her look like she was missing a limb.
The matriarch of the Kardashian-Jenner clan shocked fans recently when she posted a photo looking like she was missing one of her limbs. This caused fans to flock to the comment section with hilarious reactions about the photo.
"Where's the other leg??"
"Amber Alert! A leg is missing! "
"One leg?What?O.M.G!"
The "Keeping Up with the Kardashians" star was trying to show off her luxurious Versace outfit for the Monaco Grand Prix, which included a black and yellow suit. While this was supposed to be the highlight of the photo, the focus ended up on her leg.
While the whole missing leg fiasco was evidently an optical illusion due to her patterned suit blending in both her legs, it caused quite the reaction from her social media followers.
Jenner, 62, has been looking her best while in Monaco, posting with different personalities such as Mr. and Mrs. Hilfiger, racer Lewis Hamilton, and Tom Brady.
"Repost @lewishamilton ....Great Day at Monaco Grand Prix! Thank You @lewishamilton @tommyhilfiger@mrshilfiger @tombrady#monacograndprix2018"
During night time, Kris changed into a glamorous black and silver metallic gown, which made sure all eyes were on her.
The beautiful momager of the Kardashian-Jenner clan looked stunning in her long-sleeved floor-length gown, capping off her look with a smokey eye and nude lipstick.
She spent the night with her equally glamorous friends Corey Gamble, Lewis Hamilton, and her "partner-in-crime" Dee Ocleppo-Hilfiger.
"Just hangin around Monaco with my partner in crime @mrshilfiger@deeocleppo #lookinfortrouble"
"Happening.. #golewis"
The group of friends were cheering on their racecar driver buddy Lewis Hamilton, who was sporting Petronas and Tommy Hilfiger sponsored gear.
When the group wasn't by the race tracks, they were up on their luxurious yacht enjoying the views, music, company, and drinks.
Kris Jenner's children are all grown-up now, and she has been working hard year after year to ensure her children's success. She has finally taken some time off her busy schedule to be with friends, and by the looks of her photos, she is clearly enjoying herself. Her well-deserved Monaco getaway has proven just how far she's come, from being a humble wife of a champion Olympian, to a successful manager, reality TV star, and businesswoman. She has raised her six children well, and now that they're all successful in their careers, she can finally relax and make the most out of her life.
Please fill in your e-mail so we can share with you our top stories!