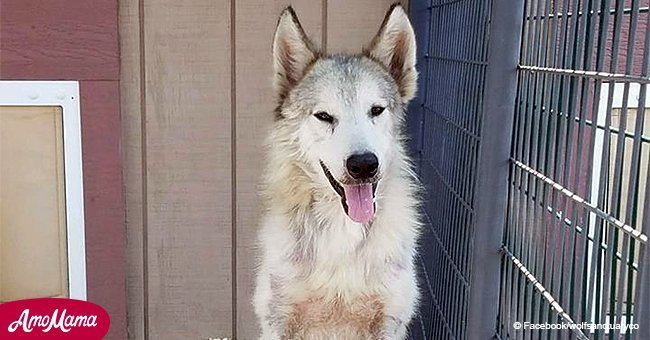 Abandoned wolf dog mix finds new home within wolf sanctuary
A wolf-dog hybrid named Castiel is given a new lease on life after W.O.L.F Sanctuary brought him to his new home.
In 2016, W.O.L.F. Sanctuary adopted Castiel because shelters couldn't keep wild animals. W.O.L.F. stands for 'Wolves Offered Life and Friendship.'
Castiel was first discovered wandering the suburbs of Los Angeles. Local residents thought he was just an ordinary dog because he was wearing a sort of makeshift collar.
The rescuers believed that the stray animal was kept as a pet and most probably an abused dog.
Castiel was very underweight when he was found. He was also infested with parasites and losing chunks of his fur from mange.
Castiel was first taken to a local shelter, where it was discovered that he was actually a wolf-dog hybrid.
That meant that the poor little guy couldn't stay in a shelter because he was a wild animal.
And to make matters worse, Castiel would be destroyed if they couldn't find him a home.
Luckily, the W.O.L.F. Sanctuary in Colorado received a call about a young wolf dog who needed urgent rescue.
The organization stepped in and brought Castiel to their Vet in Wellington, Colorado. A doctor immediately began to work on helping the wolf-dog hybrid.
To regain his health, Castiel was kept at an off-site W.O.L.F. infirmary, where he was given medicated baths, antibiotics, and pain medication.
Castiel recovered quickly. His fur grew back, his infections cleared up, and he put on lots of weight. The young wolf dog was then moved to the sanctuary.
W.O.L.F. Sanctuary noticed that Castiel was very shy with humans. The organization believed that he was longing for animal companionship, so they decided to find him a suitable female companion.
Then, Castiel was introduced to Tenali, a very social and playful wolf dog. She was a 3-year-old rescue from Wisconsin.
At first, Castiel was overwhelmed but after a couple of days, he began to warm up to Tenali.
The two animals have been playing and spending more time together.
Castiel looked happier and healthier than ever. He not only found a home but found true love as well.
Please fill in your e-mail so we can share with you our top stories!