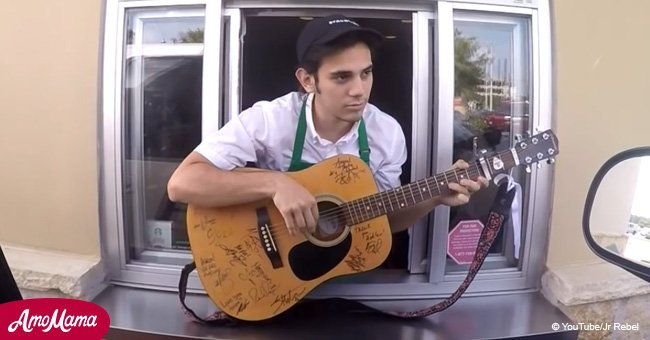 Footage shows Starbucks drive thru employee playing guitar for customers
Two regular customers stop at a Starbucks drive-thru and are treated by the surprising talent of their favorite barista.
When J.R. and Ashlen were getting their weekly coffee from Starbucks in Bryan, Texas, they were surprised by the amazing guitar skills of their favorite barista, Phillip.
In the video uploaded to YouTube by J.R., we can see the duo stop the car outside the drive-thru window at one of the Starbucks stores.
Ashlen immediately livens up when she spots Phillip, the barista who often serves them their weekly coffee at the store.
She even tells the barista, "I think we should be friends. We see you every week."
The barista certainly agrees with this point and he initiates friendship by offering his name. "I think we should start with names. I'm Phillip," he says in the video. Then Ashleen and J.R. both offer him their names.
And that's when he spots Ashlen's guitar lying beside her in the car seat. Phillip immediately asks if he could play the guitar.
Ashlen joke's if he could even reach it, but the barista pulls himself a little out of the window and easily receives the guitar.
Afterward, he starts by hitting some soft and melodious notes. Ashlen and J.R. are already impressed, but Phillip is yet to show them his talent.
The video then shows him perform a beautiful and melodious fingerpicking number while the duo waits for their coffee at the drive-thru.
It definitely must have been one of the best Starbucks experience for the two of them.
Please fill in your e-mail so we can share with you our top stories!