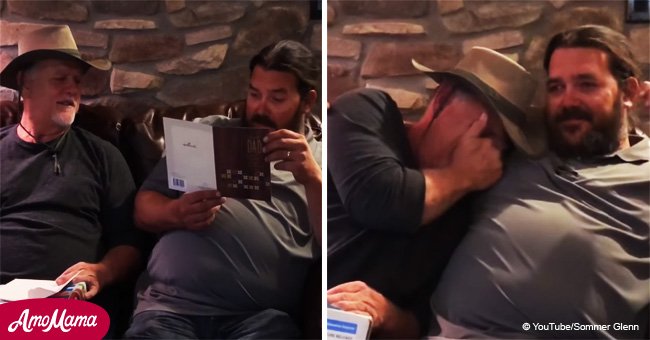 Video shows man's emotional reaction to 40-year-old stepson's adoption request
When this man turned 60, his stepson planned something unexpected to surprise him and he was left so overwhelmed with emotion.
In October 2017, when Dave Skaggs celebrated his 60th birthday, one of his stepsons, Joel Glenn, surprised him with a very special gift that left him crying and sobbing, as reported by CBS New York.
Joel, the youngest of five brothers, was only ten when Dave came into the family's life and being still so young, he was probably the most in need of a father figure. Ever since that time, he has looked up to Dave as his role model.
As Joel hit puberty and became a teen, he gave his parents a tough time. He constantly acted up and put Dave's good nature and patience to the test. Anytime it was possible to be a troublemaker, Joel could undoubtedly be relied upon to rebel.
It took Joel a while to become close to Dave, but with maturity, Joel's perspective of Dave changed dramatically, not only as a father figure and partner to his mother but also as a human being, he even asked Dave to be the best man at his wedding.
Joel is now 40 and married to Sommer Anne. He and his wife had been discussing the adoption for a while. The couple realized Dave's birthday would be the perfect occasion. However, the adoption papers were given alongside a heartfelt card.
One fragment of the card read: "By your teaching and example, you have shown me what a real man is. By loving my mom, you have taught me how to love my wife. By sacrificing and standing beside me no matter what life threw at us, you showed me how to be a father to my own kids."
After Joel read the card Dave opened his present. Inside contained a blue file which Dave opened and started to read its contents. When he realized that it was the adoption papers, his emotional reaction was just priceless.
When Joel had children of his own, Dave became Papa, the grandpa to four more kids. Dave, despite being unable to have children of his own, had been a husband, father, father-in-law and now grandfather. He has always been surrounded by a huge family.
Please fill in your e-mail so we can share with you our top stories!