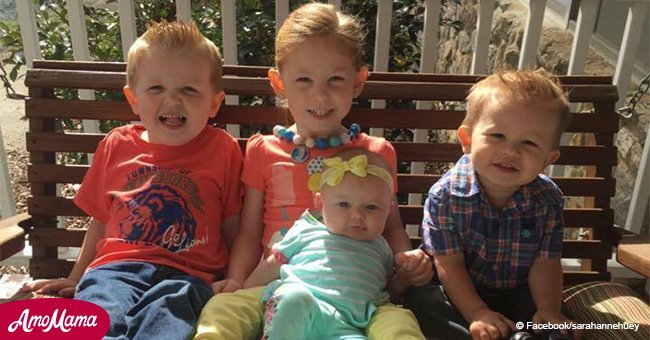 6-year-old girl acted swiftly to help her siblings after a car crash
A 6-year-old girl showed her brave side when her family became the victim of a horrible crash.
42-year-old Sarah Sutton was driving home with her four young children when she was hit by another vehicle rushing toward her at the intersection of Rea and Marvin School Roads.
Sutton told People that it was rush hour traffic in Charlotte when the car came from the opposite direction and hit her head-on. She recalled that the experience was like that of hitting a brick wall.
As the car crashed horribly, all of the airbags were deployed leaving her trapped in the driver's seat. That's when the eldest of her children, 6-year-old Alayna, sprang to action.
She freed herself from her car seat and then began to unbuckle her siblings from their respective car seats. She managed to rescue 3-year-old Ryder as well as 2-year-old Aynsley, but she could not help her 5-year-old brother Liam, who was in the backseat.
Sutton recalled seeing Alayna taking care of her brothers and sisters and thinking that she's the "little mama" of the family. "She just takes care of all her siblings," she told People magazine.
After a while, strangers came forth to help the family and began pulling the children out of the car. Alayna screamed at them reminding them of her brother whom she was unable to help.
The family was taken to a local hospital by an ambulance, and they were treated for concussions, lacerations, and the injuries of shoulder, neck, and legs.
However, it's the emotional injuries that the family has been struggling with the most, revealed the mother.
She stated that they continue to have nightmares almost every night. The children are also having a hard time sleeping in their own beds. Alayna, most of all, has not been able to go back to school due to severe headaches.
Sutton believes that the family has made an almost miraculous survival from the crash. The EMT told her that it was most probably the five-point harness car seats that might have saved the children's lives.
Please fill in your e-mail so we can share with you our top stories!