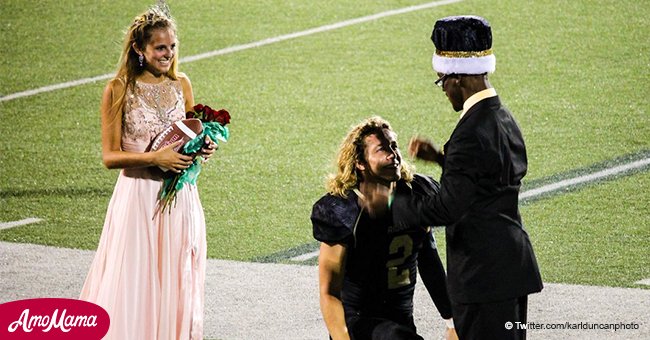 Homecoming king handed his crown to friend with cerebral palsy
Max Akin, the Keller Fossil Ridge quarterback who was named the homecoming king of the school, gave his crown to his friend K.L. Norwood during a game.
It had been a pretty good night for Akin, who was crowned the homecoming king earlier that day and had 200 passing yards, 60 rushing yards, and four touchdowns when the first half of the game ended.
According to WFAA, what he did at halftime was even better. Akin walked right toward his friend and team manager Norwood, who was also nominated for the homecoming king recognition, and gave him a big surprise.
Akin kneeled down and gave the homecoming king's crown to Norwood, who has cerebral palsy. Talking about that moment, Norwood said that it was 'terrific.'
The quarterback pointed out that the recognition should have gone to the person who positively uplifts the school and everyone around him, and admitted that Norwood was by far the best example of it.
Akin also confessed that he didn't know when he would have the chance to do it, but right after the first half ended, he went to where Norwood was, hugged him, and gave him the crown.
As soon as that happened (2016), the photos of that impressive act were all over the Internet. It shocked so many people that every homecoming season that news resurfaces.
Fossil Ridge Head Coach Tony Baccarini confessed that Akin was not trying to show himself as a good person because he was indeed a good person. Baccarini added that the reason their team was so successful was that they all love each other.
Akin finally revealed that the best moment of the night was hearing everyone chanting Norwood's name after halftime. According to him, it was a very special moment for Norwood, too.
While many people would see Akin's action as something not that important, he did it to make his friend feel better. It will be on Norwood's mind forever.
Please fill in your e-mail so we can share with you our top stories!