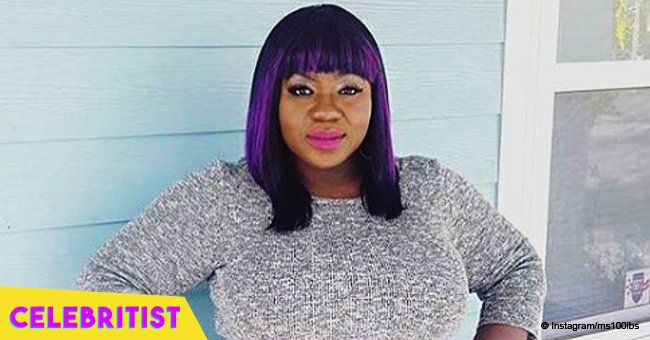 Obese woman shed 121 lbs. after daughter's classmate called her 'fat'
Rachel Saintfort knew she needed to drop some weight for health reasons, but she was never really bothered about her appearance until a classmate of her daughter called her "fat." Then, she took the decision to drop some weight for her and her daughter, and she documented her journey on Instagram.
Celebritist learned from People magazine, the story of recording artist Rachel Saintfort, who dropped 121 lbs. in ten months and is now looking and feeling like a totally new woman.
Rachel had developed high blood pressure and a small case of lymphedema (swelling from a blockage of the lymphatic system) after giving birth to her daughter, so she knew she needed to make more healthy choices, but every time she started a diet, she would give up after a short time.
"I would yo-yo. I would always get the first 30 lbs. off, and for some reason at 30 lbs. I would mess up, and I would say, 'Oh my god I just freaking ate a burger, it's over. I'm just done'."
However, in January 2017, an experience with her 10-years-old daughter gave her the determination she needed to take her weight loss seriously. The girl got in her car and mentioned that one of her classmates has referred to her mom as "fat."
"She looked so sad, and she's trying to act like it wasn't a big deal. At that moment it hit me that she's suffering, and she's being picked on or laughed at because of my laziness or my unhealthy choices. That definitely inspired me to get it together, because I didn't want her to feel that way."
Rachel started by cutting out sodas and fast food, and she would walk or jog about 3 miles daily around a lake near her house. She also tried to see a personal trainer to tone up her body, but she realized that jogging or walking was giving better and faster results.
After losing 100lbs less than 12 months after she started her journey, she became emotional after realizing that aside from the scale victory, she had also gained other small victories, as she explained:
"I cried. It was an amazing feeling. I still don't feel like it's real, but getting on a plane and putting your seatbelt on without feeling like it won't fit, or going up a flight of steps is beautiful to me. I mean, I used to need my daughter to put on my shoes."
Rachel is now sharing her experience with people all over the world through her Instagram account, and she's looking stunningly beautiful as she flaunts her new slimmer body. She also strengthened the relationship with her daughter, because now she can play with the girl without getting tired after 5 minutes.
"To have your own child be proud of you is a feeling you can't explain. It's so amazing, and I was able to show her that if you set a goal you can achieve it — you just have to keep fighting."
Rachel is an example of perseverance, and we're glad she decided to share her empowering experience publicly, proving that with the right mindset and willpower, anyone can achieve whatever they want.
What do you think about Rachel's weight loss journey?
Please fill in your e-mail so we can share with you our top stories!