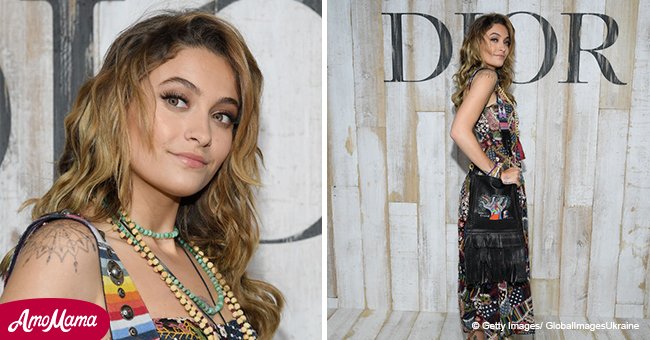 Paris Jackson walks out of fashion show because of 'branded and whipped' animals
The 20-year-old caused quite a stir when she was seen leaving the show, and took to social media to clear up the confusion.
During the Christian Dior fashion show in Paris, France, at the end of May 2018, Paris Jackson was seen leaving the venue mid-show. Rumors then started doing the rounds that she had "stormed out" and "left in a huff."
The daughter of the late Michael Jackson took to Twitter to explain what had actually happened, and why she had made the decision to leave the event.
"to be clear, i did not "storm out" of the show. i quietly got up and walked out trying my hardest to not cause a scene, because i do not support animals being branded and whipped. not trying to become enemies in the fashion world in any way, but i will always be myself," she wrote.
The show featured a re-creation of "Mexican rodeo with all-female riders performing daredevil stunts," which Jackson had simply decided she didn't want to see or be a part of.
The actress/model added another tweet, explaining that she was surprised by the turn the show had taken, and hoped that in the not too distant future the luxury brand would also start supporting animal anti-cruelty campaigns.
The event took place at a chateau, but was heavily rained upon as a storm raged in the skies, leaving models walking a very slick stage and guests' spirits thoroughly dampened.
According to sources that spoke to Page Six, Jackson had "stormed out" as the first model hit the catwalk, while the New York Times wrote that ""By the end, the only cloud that remained over the event was the jarring exit of Paris Jackson, who had pranced in puddles barefoot for the photographers before the show, but stalked out in a rage as the first model made her way down the runway."
Jackson's reps did not immediately comment on the star's departure, and the starlet herself waited a number of days before she explained her reasons for leaving.
Please fill in your e-mail so we can share with you our top stories!