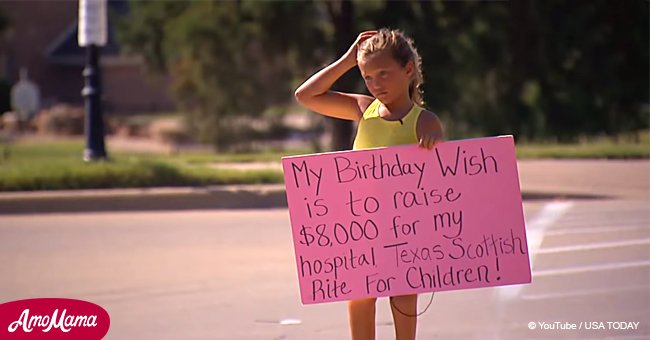 Girl gifts $8,000 to hospital that helped her walk
Addie Bryan was determined on raising $8,000 for Scottish Rite Hospital that has helped her so much.
Addie was born with severe deformities. After the free care she has received at Texas Scottish Rite Hospital in Dallas, the young girl can now walk.
In 2015, when Addie was about to turn 8, she planned to give $8,000 gift to the hospital to express her deep gratitude.
The girl has been asking for donations. She made a homemade sign and stood on a street corner near her home in Rockwell, Texas.
"I just hold a sign that says, 'For my birthday, I want to raise $8,000 for Scottish Rite Hospital,'" Addie told WFAAW.
Addie has caught the attention of several news outlets. After the news media coverage of her story, her campaign raised an astounding $19,500.
There was also an unknown philanthropist who donated $50,000, bringing her grand total raised to $70K.
According to Addie, this story was never about her, but about the hospital that became her second home.
When Addie was born, her mother, Julie Bryan, had no idea her daughter would be spending most of her young life at the hospital.
Julie gave birth to Addie with Larsen syndrome, a rare condition that causes abnormal development of the bones.
"She has a condition called Larsen syndrome," Julie told WFAAW. "When she was born, her knees were backward, her legs were all the way up to her head, she had hip dysplasia, and a club foot".
Addie was outfitted with her first cast at just 5 days old. In the coming years, she has seemingly had between 60 and 70 casts and underwent four surgeries as well.
"We didn't know if she would ever walk, if she would ever run. We didn't know any of that," Julie said.
With the help of the doctors and other miracle workers, Addie is now doing all that.
"I'm back at home walking and having fun with all my friends," Addie said.
Please fill in your e-mail so we can share with you our top stories!