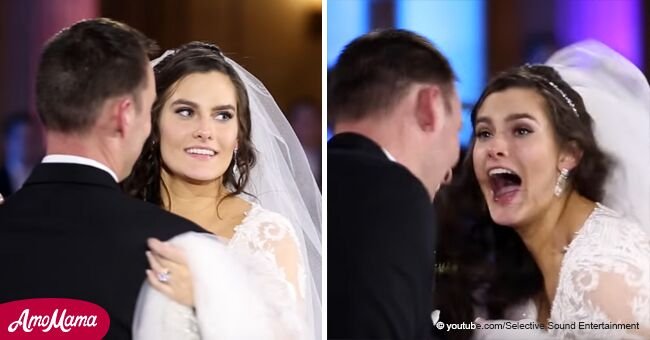 Groom secretly invites country star to his wedding
A bridegroom planned a special wedding surprise for his bride that got her breaking into tears.
A video uploaded on YouTube revealed how a bridegroom surprised his bride during their first dance together on their wedding day by inviting her favorite country artist, Mark Wills, for a live performance.
To build up his surprise, the groom took the bride to the center of the stage prepping up for their first dance as husband and wife.
Seconds later, the song Like There's No Yesterday by Mark Wills starts to play and the couple dancing together while taking each other in a loving embrace.
But, then something unexpected for the bride happens. There seems to be a technical error in the soundtrack and the song stops. The confused bride turns to her while the DJ apologizes for the error.
Then the DJ announces on the microphone, "We're gonna do a live version if you don't mind." After the announcement, the country star, Wills, climbs up the stage and starts singing the song by himself.
The bride has not yet figured this out as she is kept facing the opposite was by her husband. Dancing smoothly, the husband then slowly turns the bride around toward the stage for her ultimate surprise.
After completely facing toward the stage, it doesn't take her more than a second to realize that it was the country icon himself performing up on stage. She screams in surprise, gets emotional, and immediately breaks into tears.
She could only look from her husband to her favorite artist, unable to contain the overwhelming emotions, as she danced in the arms of her husband.
After the song ended, the couple finally approached the singer and the bride had the opportunity to share some words with her favorite artist.
Please fill in your e-mail so we can share with you our top stories!