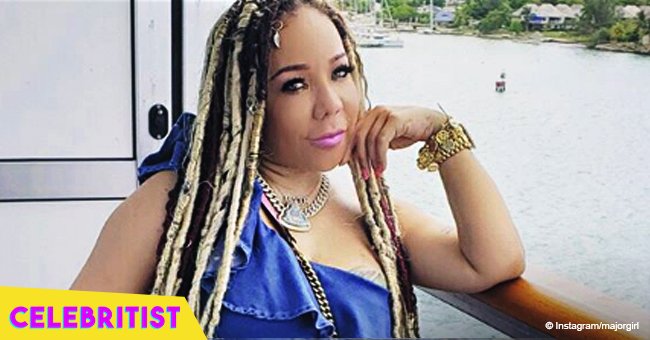 Tiny Harris shares video of baby Heiress playing with teddy bear amid her and T.I.'s alleged feud
Tameka "Tiny" Harris is constantly melting fans' hearts with photos and videos of her adorable kids, but many have admitted they have a favorite among the Harris' family, and that is their youngest daughter, Heiress Diana. Tiny recently share an adorable video of the little girl and her brother Major King, and they're the absolute cutest.
The Xscape singer has been getting some rest from her duties within the group and she has taken that free time to have some quality time with her and T.I's kids. In one of the recent videos she shared on Instagram featuring Heiress, the little girl shows her possessive side as she fights her brother for her mom's attention
Heiress just celebrated her second birthday last month, but she's already babbling and showing her dominance, as she was shown playing around with a teddy bear almost twice her size and later play-fighting Major King as she claimed Tiny was her mommy, only hers.
Even Tiny admits that the little girl believes she doesn't have to share with anyone else her mom's love, as she wrote in the caption of another beautiful photo of Heiress sleeping on her arms:
"Where she wanna be!! All over me!! My Sunshine @heiressdharris she really thinks she's my only child. #TooLittleToBeSoTerritorial"
This comes after Tiny and the little girl's first magazine cover came out last month. The pair posed for Mother's Day special of Rolling Out magazine wearing colorful clothes and playing around, showing off their strong mother-daughter bond.
The cover allegedly caused some troubles between Tiny and T.I since the rapper is not so sure about their little girl being that exposed to the media and the public for safety reasons.
However, Tiny seems to be ignoring her husband's concerns, and she even opened an Instagram account to her daughter, where she's constantly updating fans on the little girl's life, focusing on her cute outfits and her relationship with the rest of the family.
T.I and Tiny have a beautiful family and we're glad they share some of the most beautiful moments of their household with us. Heiress and the other kids are growing up in a loving environment and we can tell they're happy to have each other.
Please fill in your e-mail so we can share with you our top stories!