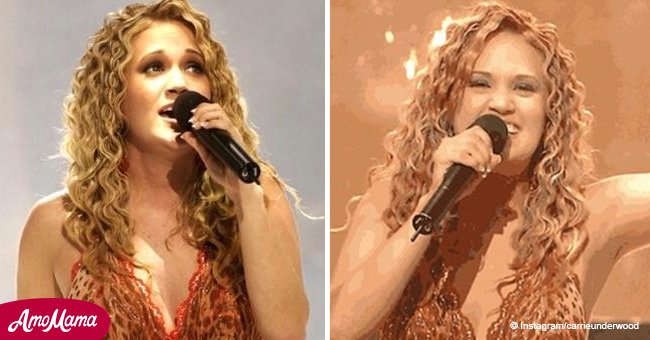 Here's how Carrie Underwood's appearance has been changing throughout the years (photos)
In the 13 years that have passed since she won the fourth season of American Idol, Carrie Underwood has had many transformations in her style. She certainly looks way different than on that season's finale in the present.
The numerous die-hard fans of the 35-year-old country singer have followed her successive looks since the start of her career, but in case you have forgotten about them, Country Music Nation has gone through all of them.
When Underwood shared a throwback photo on her Instagram on May 2017, many of her fans were reminded of how much time had passed since her journey to stardom began, and how many changes she has undergone in the meantime.
'12 years later and I'm still not sure how it all happened to me! 12 years ago today, my dreams came true and life has been a dream ever since! I am beyond blessed and so thankful!' the star captioned the photo.
The mother-of-one not only has become a country music icon diva with many awards and records sold, but she has also always stood out for her impeccable style in her many public appearances.
Her style is always in perfect balance between elegance and originality, and whether she is wearing a simple style or an haute-couture eccentricity, it is always delightful to look at her.
Despite the many variations her style has shown, she is probably best known for her ostentatious dresses that let her flaunt her toned legs, and for her long blond hair. It is her signature style.
But although when people think of Underwood they would most likely picture her with her long locks, she has taken her chances with shorter hair in the recent past and she looked stunning sporting that style too.
Many of her fans were shocked in 2016-2017 with Underwood's shorter cut, but we shouldn't forget that during her time on American Idol she tried every kind of hairstyle. She even rocked some kinky curs at the show's finale.
But as some of her more candid pictures from the American Idol era suggest, curls were the hairstyle of choice of Underwood beyond the stage.
In another throwback photo from 2005 posted by her fellow country singer Brett Young, Underwood and him appear together and while Young looks pretty much the same as he does today, she is almost unrecognizable.
Back in November 2017, Underwood famously suffered a serious injury on her face because of a fall, and there was a lot of speculation about how she was going to look after her recovery.
The fans were worried because of Underwood's decision to not show her face for a long time, as she was feeling insecure about her appearance, but when she finally revealed her face once again, most didn't notice any changes.
Despite her many looks during her time as a celebrity, most of us would agree that she is looking as pretty as ever. Read more on our Twitter account @amomama_usa
Please fill in your e-mail so we can share with you our top stories!