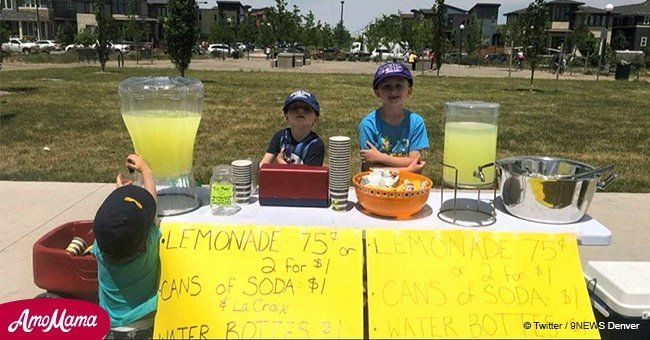 Neighbor in Colorado calls police to shut down boy's lemonade stand on Memorial Day
The three Colorado kids were crushed after a neighbor complained to the cops about their lemonade stand during the Memorial Day weekend.
FOX4 revealed that the three boys were encouraged by their mother, Jennifer Knowles, to open a lemonade stand across the street from their home located in the Denver suburb of Stapleton, Colorado.
Knowles said that she wanted to educate her kids about what it's like having their own business. She shared with the news station that her kids were learning about customer service and how to interact with customers.
Although, just 30 minutes after the boys had been selling their goods, authorities arrived and asked them about a permit.
"The police officers came over and they said that because my boys and I did not have permits for a lemonade stand they shut us down and we had to stop immediately," Knowles said to FOX4.
The mother shared that the police were very nice in approaching them, but she confessed that she was saddened by the thought that one of their neighbors would complain about them.
She also explained that her sons were planning to donate their earnings to a charity group called Compassion International.
Knowles said that her boys were devastated afterward. She recalled how fun it was for her when she was young to sell lemonade to her neighbors and not once did she ever worry about being shut down by the cops.
Alexandra Foster, Communications Program Manager, clarified that permit laws for businesses run by minors are not strictly followed. Although, authorities will respond and take action once a complaint is made.
Foster added that complainants usually call if they feel like the business causes "high levels of activity or noise that disrupts neighbors."
As for Utah, the state passed SB 81, which is a bipartisan bill that permits minors to operate a business without applying for a permit. For more info about this story, visit our Twitter account, @amomama_usa.
Please fill in your e-mail so we can share with you our top stories!