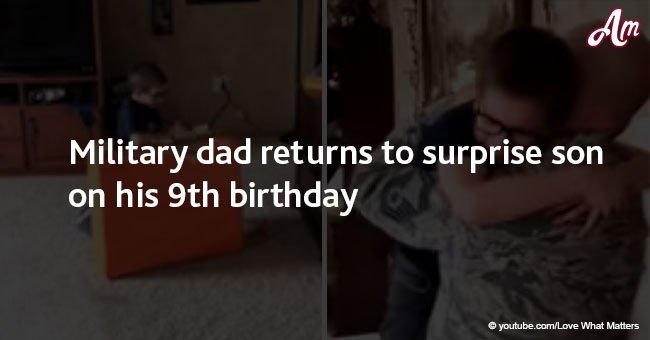 Military dad returns to surprise son on his 9th birthday
Ronin Coffelt was delighted to see his father, a senior master sergeant in the U.S. Air Force, on his birthday.
The young boy, who turned 9 years old, was expecting to see his father, who was on an eight-month deployment in Qatar. But when the big day came, he came home to a massive present with a letter that said his father wouldn't be able to come home.
"I am so sorry," the boy read aloud from the not. "And it looks like I will not be home for your birthday this year."
In the video, the boy looks distressed after reading the letter, which his father, Mark, supposedly wrote.
His mother, Aleecia, then asks him to open the big birthday box. The box opens to another box, and then another. Then he sees the note that reads, 'Surprise.'
He looks confused until he looks up and sees his father in full military uniform. His face brightens up as he runs toward him, screaming, "Daddy, daddy, daddy!"
"I love you!" the boy said.
In an interview with ABC News, Mark said that he had sacrificed a lot for his deployments as an Air Force senior master sergeant.
"While I've been deployed, I've missed several life moments. The last three have been the hardest," he said.
To make his homecoming for Ronin's birthday special, Mark and Aleecia planned a surprise.
After returning from Qatar, Mark hid nearby to wait for the perfect moment to surprise his son.
At first, Mark and Aleecia thought of having him pop out of a huge box but they couldn't find a box large enough. So they settled on a note.
Aleecia made sure to have the emotional moment recorded in a video.
Please fill in your e-mail so we can share with you our top stories!