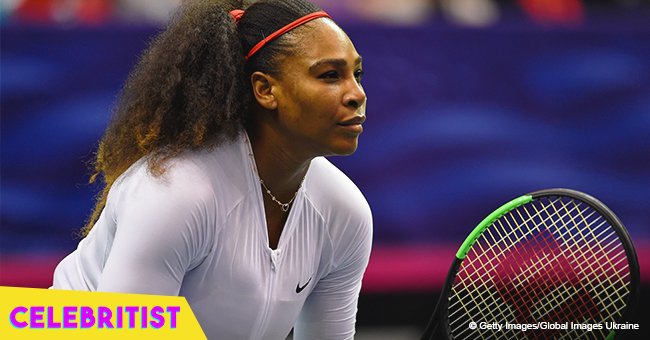 Serena Williams shares empowering message after pulling out of French Open due to injury
After a great first week at the French Open, Serena Williams had to withdraw from further games last Monday when she suffered an injury. After her withdrawal, Williams made sure to share an empowering message to her fans, assuring them that this is only the beginning of her comeback as a tennis player.
During an interview at the overstuffed Roland Garros interview room, she shared:
"Right now I can't actually serve. It's kind of hard to play when I can't physically serve. You know, I gave up so much, from time with my daughter to time with my family. I put everything on the court, you know. All for this moment. So it's really difficult to be in this situation, but I always, for now in my life, I just always try to think positive and just think of the bigger picture and hopefully the next events and the rest of the year."
William officially returned to the game in March, at the BNP Paribas Open in Indian Wells, California, where she reached the third round. But after she lost in the first round of the Miami Open to Naomi Osaka just a week after, she did not play on tour for almost two months, as she chose to focus on improving her fitness and her game at her coach Patrick Mouratoglou's academy near Nice, France.
Serena chose to forgo all of the clay court warm-up tournaments prior to the French Open, arriving 453rd and unseeded. However, she began hitting high notes when the tournament began, winning three rounds and defeating two seeded players: No. 17, Ash Barty, and No. 11, Julia Gorges. She was set to meet with her rival Maria Sharapova, whom she had defeated 18 times in a row.
During her third round victory over Gorges last Saturday however, Williams said she began feeling a sharp pain in her pectoral muscle. She still decided to play on Sunday night in a doubles match with her sister Venus, but the two ended up losing in three sets. She struggled with her serve in the later stages of the match due to the pain she felt.
In the interview room, Serena shared how she tried to remedy the pain in different ways but to no avail.
"In my doubles yesterday, I tried a lot of different tapings, and I tried lots of different types of support to see how it would feel under match circumstance. It didn't really get a lot better."
This is the first time Serena has withdrawn from a Grand Slam tournament, although she once retired midmatch in the third round of Wimbledon against Virginia Ruano Pascual in 1998 after injuring her left leg after falling.
While her coach said that the doubles match was a bad idea, Williams wanted to see what type of treatment would work best against Sharapova. However, that matchup was just not meant to be.
"You always live to fight for another chance. I've done a lot of fighting and this is just the beginning. Thank you a for the support. I love you."
She withdrew shortly before the match after making a very unsuccessful attempt to serve without pain during a practice session.
"We made the call very late, because there was rain in the forecast, and if it rained, she had an extra day. So we waited. And it did not rain, so all the elements were against us.
Sharapova and her team, including coach Thomas Hogstedt, was already in the waiting room at the Chatrier stadium when the tournament organizers informed them of William's withdrawal.
"Everybody was pumped for the match; it was a little bit like a shock, because we were just ready to go on."
Maria will have to wait a bit to try and stop her losing streak against Serena, which dates back to 2004. Sharapova has only won one set against Williams in the last 10 years, holding a 2-19 record against her overall.
Please fill in your e-mail so we can share with you our top stories!