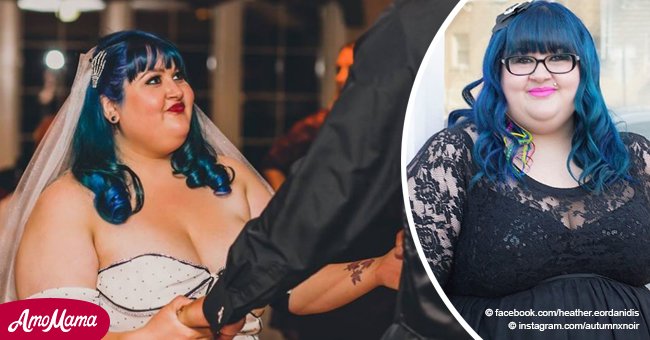 Woman lost more than 100 kilos after she realized she was 'too young to die'
Stylist Heather Oset got the scare of her life a couple of years ago when she thought she was going to die. Fortunately, in the long run, that experience saved his life.
She was blow drying a client's hair when she started having a severe chest pain and heart palpitations. Trying to work through it, she soon found it impossible and had to have her husband drive her to the hospital.
According to Inspire More, at the time of the incident Heather weighed 356 pounds (161.62 kilograms), but she did not fully realize the seriousness of her situation, and that day spent at the hospital was an alarming wake-up call.
Fortunately, it had not been a heart attack. His body was expressing itself in another way because her hormones were completely out of control due to her weight and unhealthy lifestyle.
Heather revealed that her poor eating habits began when she was just a child as a way of dealing with a problematic home life. She explained how she would regularly skip breakfast and just have a massive lunch along with takeout for dinner.
'My father was abusive and anytime something bad happened, I would run to the fridge and would eat whatever hostess cakes, snacks, pies, or cookies I could find, because they were his and I guess in my head that was my way of fighting back when I physically couldn't,' she recalled.
Heather fell in love and got married in 2014. Soon after the wedding she and her husband planned to have a baby. But doctors had already told her that pregnancy would not be possible unless she lost weight.
After talking to a coworker she recommended a local bariatric center because her mother in law had bariatric surgery and did amazingly well. Heather didn't have to think too much about it and made an appointment right away.
Being overweight also caused her other problems; she was also extremely close to becoming a diabetic and all the extra weight that she put on left her with severe back and leg pain on top of sleep apnea.
'My weight was holding me back in all aspects of my life, in my family, work and daily activities,' Heather said, so she took the first step in making an appointment with a bariatric surgeon.
Heather made plans with the doctor in order to undergo a procedure to reduce the size of her stomach. But before she could do that, Heather had to lose twenty pounds by herself.
On January 18, 2017, Heather finally underwent surgery on a day she describes as "the beginning of the first day of the rest of my life." Still, it was up to her to maintain and improve her new body by following a healthy diet and a new exercise routine.
Shee started by simply walking but soon began to do water aerobics at the local YMCA, and the excess weight gradually began to come off. She set her first goal of being 250 pounds.
As she close to the goal she continued to lower it in smaller amounts first 200, than 180, than 160. She never thought she would ever be able to say she weighed 125 pounds. As of today, she has lost a total of 231 pounds, she never thought she would go from 356 to 125 pounds.
'I never thought I would weigh 125 pounds today! I lost 231 pounds in total, including the 20 I lost on my own, just before the surgery ... I am no longer a potential diabetic, I do not have hypertension or sleep apnea and I will eventually be able to start my family someday,' she said.
Anyone who works as a hairdresser needs to be creative and Heather has taken that creativity to the kitchen, playing with healthy recipes and adjusting the ingredients to satisfy her individual tastes. She is unrecognizable today and there is no turning back to stuff herself with sandwiches, pizzas or greasy food to go.
'I think something that has really helped me with my weight loss journey is finding different/healthy ways to eat the things I used to love.'
'I hope to inspire others on their own trips and to know that they are not alone! That the impossible is possible, no matter how out of reach it seems at that moment,' he said. Read more on our Twitter account @amomama_usa
Please fill in your e-mail so we can share with you our top stories!