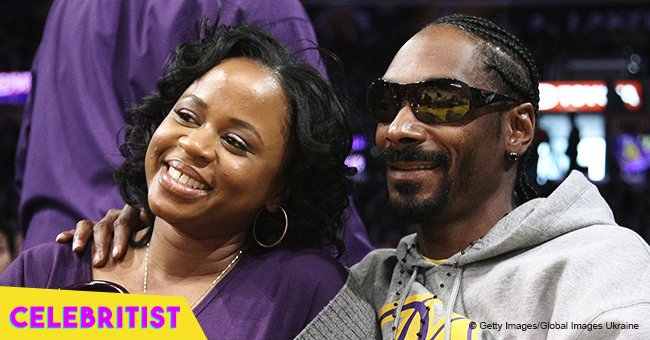 Snoop Dogg's wife melts hearts with video of their grandson who tries to swim in the pool
Shante Taylor, the wife of the world-wide famous rapper Snoop Dogg, took to her Instagram account to share a video of Zion, her grandson, 'swimming' in the pool.
The short video showed the three-year-old boy standing in the far edge of a swimming pool while his mother, Jessica Kyzer, and Shante were calling him from the other edge. Even though their intention was to make him swim, he just walked toward them.
In the end, when Zion was next to Jessica, he started breathing heavily, suggesting that he was very tired after 'swimming' that fast. Shante could do nothing but laugh at the occurrence of her grandson.
According to E Online, Zion is the son of 23-year-old Cordé Broadus, Snoop Dogg's son, whose nickname is Spanky Danky. He and Jessica welcomed Zion to the world in 2015 and have been giving him the best possible care ever since.
So far, the 46-year-old rapper has only one grandchild. However, that number is expected to increase as, apart from Cordé, he has three more children.
They are 21-year-old Cordell and 18-year-old Cori - who Shante and Snoop Dogg had together - and 20-year-old Julian Corrie, a son that the singer had while he was in a relationship with Laurie Holmond.
Even though Snoop Dogg is not as active as he was when he was younger, he has never stopped working on new projects and albums. One of his newest record, Neva Left, was released in May 2017.
More recently, in March 2018, Snoop Dogg released a gospel album titled Bible of Love, which serves as his debut gospel album. Apart from singing, he was also the executive producer of the entire record.
As PR News Wire reported, Snoop Dogg credited his late grandmother, Dorothy Tate, as the one who introduced him to gospel music and inspiring him to release Bible of Love.
Finally, Snoop Dogg added that he wanted to make an album that spreads love and unity around the world as it was what he was taught.
Please fill in your e-mail so we can share with you our top stories!