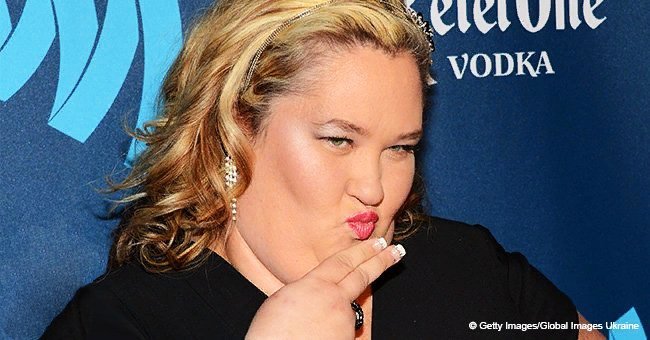 Mama June is gaining weight again and reportedly proposed in show's recent trailer
In 2017 she famously dropped 300 pounds thanks to a gastric sleeve surgery and other procedures she underwent, but Mama June Shannon is struggling again as she has been putting weight back on.
The From Not to Hot star had managed to revamp her look radically after learning heard that her ex-husband Mike 'Sugar Bear' Thompson was planning on getting married again, as she wanted to be in shape for his wedding.
As Daily Mail reported Shannon's effort to leave her overweight years behind cost the 38-year-old tens of thousands of dollars, between plastic surgery, work out and dieting.
In an exclusive for People, she made a commitment after her dramatic transformation: 'I can promise you I'm never going back to that size. I'm happy where I'm at,' she said.
On February 2017, WE released the reality show From Not to Hot, documenting Shannon's process to start losing weight, as IMDB reviewed. But in a new trailer for the show's second season she admits to having gained 'a few pounds'
The trailer also reveals that Shannon has gone from a size four to a size 12, and it's safe to assume that this is because she is not taking care of what she is eating, as it shows footage of her eating unhealthy snacks.
At her highest weight, the Georgia native tipped the scales at 460 pounds, after years of binge eating junk food and not doing any kind of physical activity.
Apart from the gastric sleeve, Shannon received skin removal surgery to get rid of her 'turkey neck,' 'bat wings' and stretched skin in her belly, as she shared with People.
In a preview of the show's return season which continues on June 15, she is seen with boyfriend Geno Doak picking up a dress for the mother-daughter beauty pageant she is preparing to contest teamed with her 12-year-old daughter Alana.
Although in a previous trailer we saw Doak saying he has told Shannon that he doesn't want to get married, she keeps bringing up the subject in the most recent preview.
'I mean, if you insisted on getting married, I feel we're close enough I can walk you and give you away,' Doak jokingly replied when Shannon kept mentioning her desire to marry him.
In the first trailer for the season's second half, Shannon was seen taking the stage at her 18-year-old daughter Lauryn's wedding in Las Vegas to impulsively tell Doak: 'I want to marry you right here,' to the shock of everybody present.
Whether or not she is going to change Doak's mind about tying the knot with her, we will have to wait for the rest of the season to figure out. Read more on our Twitter account @amomama_usa
Please fill in your e-mail so we can share with you our top stories!