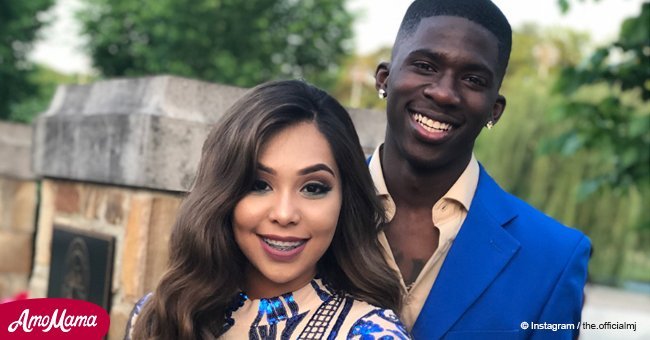 Teen transformed ordinary $50 dress into eye-catching prom gown
A bit of clever thinking was all it took for this pair to prove that you don't always need to spend big bucks to look good.
MJ Johnson and Nazmayde Castillo showcased their amazing fashion designing talent by transforming an ordinary dress into a spectacular prom gown.
In a photograph of the dress posted on Instagram by Johnson, he explained that the dress was bought at just $50 from an online store.
The 19-year-old further explained that Castillo had some idea about giving the dress a stylish look by adding 'flowers at the bottom.' This simple addition turned the mini dress into an appealing evening gown.
'I found it on Fashion Nova for her and she had the idea to add flowers at the bottom. A $50 dress is all, flowers was all it took. We both creative,' Johnson captioned his Instagram post.
The pair took about two days to finish re-designing the dress. They were expecting a lesser time because they underestimated the number of flowers they would require to transform the outfit entirely.
To give the dress a polished look, the pair added 'just a touch of glitter' to the outfit's cobalt blue print.
On the day of the prom, the ordinary dress stood out and gave Castillo a stunning appearance. Johnson complimented her outfit by himself donning a bright blue suit.
Johnson's talent was quickly recognized by the world of social media with his post going viral and getting coverage from magazines such as Teen Vogue, Yahoo, Daily Mail, and Cosmopolitan.
The teenager's Instagram post received over 48,000 likes in just a little less than a month.
Please fill in your e-mail so we can share with you our top stories!