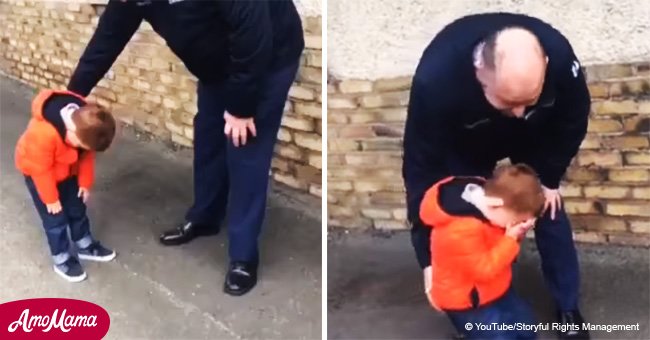 Little boy froze and broke down crying seeing his dad return home from active duty

When Captain Ian Gavagan returned home, his family greeted him with excitement. But his son was too overwhelmed with emotion to even move.
The Twitter video that was shared by Stephanie Grogan on October 5, 2017, shows the touching moment Gavagan is welcomed by his new wife and daughter.
However, his son had stopped a few meters away with his head down. The young boy couldn't hold back his tears at the first sight of his father.
After spending six months in the Golan Heights, on the Israel-Syria border, Gavagan finally arrived at his home in Dublin.
UN peacekeeper Gavagan was among the 100 soldiers assigned at Casement Aerodrome military base who returned home.
Gavagan had flown back earlier during his deployment to marry Maria before going back for his deployment again.
The heartwarming video starts with his family preparing to meet him.
Then Gavagan's wife, Maria, and his daughter rushed over to him the moment they recognized him.
The daughter can be heard shouting: "Daddy, Daddy!"
But his son was not found amid the hugging and kissing. He just stayed rooted to the ground.
The young boy was clearly too overcome by emotions. He couldn't even move his feet.
When the family looked back, they saw the boy where they left him before running. He was in tears at the time.
A man believed to be Gavagan's colleague walked over to the young boy and checked if he was alright. He eventually led him over to his father.
Since the clip was posted on Twitter, it has already been viewed more than 20,000 times. A lot of netizens also liked and retweeted it.
Stephanie Grogan captioned the video: "The excitement of Daddy coming home after 6 months in the Golan Heights proved too much for this little boy who broke down crying."
Read more on our Twitter account @amomama_usa.
Please fill in your e-mail so we can share with you our top stories!