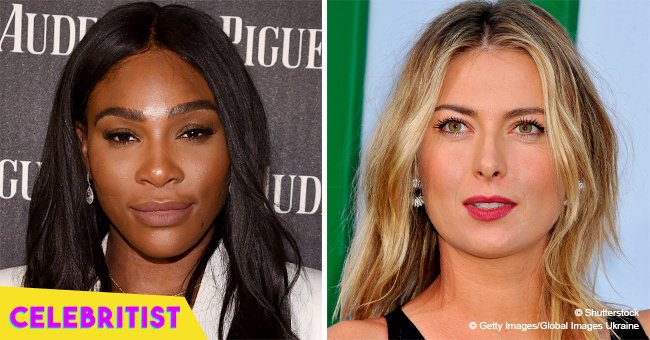 Serena Williams slams rival Maria Sharapova over shade in 'hearsay' autobiography book

Maria Sharapova and Serena Williams have one of the most interesting rivalries in sports, and Maria recently wrote a tell-all autobiography book that featured comments about Serena, much to her disappointment.
Maria Sharapova made a name for herself in the professional tennis world after she beat Serena Williams in the 2004 Wimbledon finals. Since then, Serena has beaten her every single time they met, which spans to 18 matches.
In her memoir "Unstoppable: My Life So Far", Sharapova speaks of her rival in a detailed and antagonistic way which is rarely used to discuss an active rival. While many tennis players write autobiographies, none have been as candid about a rival than Sharapova's.
While majority of her book speaks about her journey through tennis, immigrating from Russia to Florida at age 6, Sharapova details how she was able to position herself against Williams at a young age, and how her childhood impressions of Williams continue to shape her present perception of her.
When Sharapova was 12 years old, Serena and her sister Venus visited the academy in which she trained. While many people gathered to watch the famous duo, Maria did not want the sisters to see her in the stands, despite them not knowing who she was at that point.
"I'd never put myself in the position of worshiping them, looking up, being a fan. I could watch through a kind of knothole - just me alone in the dark, seeing the next 20 years of my life. The image of the Williams sisters would eventually be iconic, and it was in the works even then. They are a force. Tall girls in tennis whites, with bright smiles, and piercing, focused eyes."
Sharapova would then encounter Williams three years later in 2002 during the Wimbledon champions' ball, where she felt compelled to sit while others stood as the champion made her entrance.
"I wanted to get up, but my body just would not let me. It was as if I were stuck in that chair, staring at Serena through the crowd of people, with a single thought in my head: 'I am going to get you'."
Maria and Serena finally played against each other in Miami in 2004. In her book, she describes Williams in such a detailed way.
"First of all, her physical presence is much stronger and bigger than you realize watching TV, she has thick arms and thick legs and is so intimidating and strong. And tall, really tall. I looked across the net, and, no way to get around it, she was just there! More there than other players, if that makes sense. It's the whole thing — her presence, her confidence, her personality. She seemed much older than me in Miami. This was just before I turned 17. She was a grown woman, experienced, the best player in the world. It still feels that way. Even now, she can still make me feel like a little girl."
Sharapova used similar words to describe Lindsay Davenport, whom she beat in the 2004 Wimbledon semifinal.
"I was overpowered, overmatched. She was a woman. I was a girl. She was big. I was small."
While Maria has gone through challenging matches against Lindsay Davenport and even Venus Williams, they were nothing compared to how small she felt compared to Serena Williams.
"You are a speed bump. You are a zero. Many great players have this mentality. Serena Williams just has it more."
Sharapova ended up beating Williams in that match, but since then, it has caused her every single match since. Williams, she believes, has made it her goal to crush Sharapova on the court ever since she cried about losing the 2004 Wimbledon finals.
"Guttural sobs, the sort that make you heave for air, the sort that scares you. It went on and on. I got out as quickly as I could, but she knew I was there. People often wonder why I have had so much trouble beating Serena; she's owned me in the past ten years. My record against her is 2 and 19. In analyzing this, people talk about Serena's strength, her serve and confidence, how her particular game matches up to my particular game, and, sure there is truth to all of that; but, to me, the real answer was there, in this locker room, where I was changing and she was bawling. I think Serena hated me for being the skinny kid who beat her, against all odds, at Wimbledon."
Watch Serena Williams' reaction to the book here:
While Maria Sharapova paints Serena Williams to be much older than her, Williams is actually only 6 years older. Since competing with one another, their wins are at 2-19, and their rankings are at 60 for Sharapova and 22 for Williams. The only time Maria beat Serena was in 2004, during Wimbledon and the WTA Championships.
Please fill in your e-mail so we can share with you our top stories!