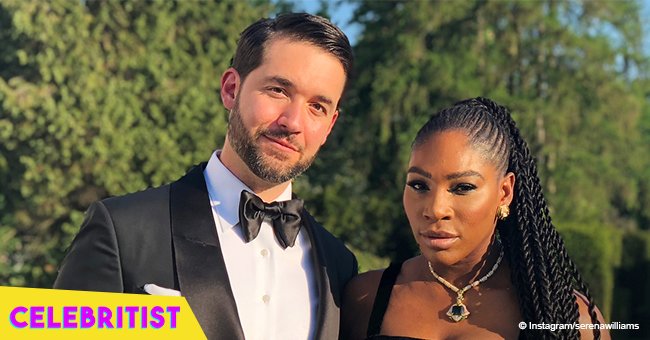 Serena Williams' husband treats baby daughter with home-made pancakes in new video
Alexis Olympia is at the ripe age for solid food and her dad is not wasting any time. The tech entrepreneur made pancakes for her daughter to sample and she seemed to love them. Sentimental too because the recipe has been passed down.
Serena Williams and husband Alexis Ohanian are parents to an adorable little girl, Olympia, who just passed the threshold for solid food. Her dad saw it best to have his little one sample his pancakes whose recipe was passed down to him by his father. Olympia's thoughts? She seemed to love them as she bit into the one piece that she got her hands on. Ohanian makes them special too, he said, with just bananas and eggs as his wife prefers them gluten-free.
The tennis champ, Serena just made her return to the sport after a year's break and did quite well for an unseeded player who has been out for so long. Unfortunately, she had to withdraw minutes before her meeting with her biggest rival Maria Sharapova, due to an injury.
Motherhood seems to be big for Serena right now, so big in fact that she said she would mind having another bundle of joy soon. 'If I wasn't playing tennis, I'd be pregnant right now. Sorry, I'm one of those women. I told Alexis, I hope [our second child] is another girl. Olympia needs a little sister, and then we can have a boy. I've only been around girls my whole life...It's definitely family before tennis for me. When I'm training, I have to be done at 1pm, because I've got to be with Olympia. I haven't gone a day without seeing her.'
As for Ohanian, being a father and husband has given him a different outlook on life. The Brooklyn-born Internet entrepreneur explained on Instagram Live Tuesday his stand on GOT.
'I finally understand Game of Thrones. I think about how I would do anything for my daughter, and also my wife. [Fatherhood] gives me this clarity of thought around every decision I make, not just professionally, but personally, and everything else. It just feels really good. It's like a higher level of consciousness.'
They make such a beautiful family.
Please fill in your e-mail so we can share with you our top stories!