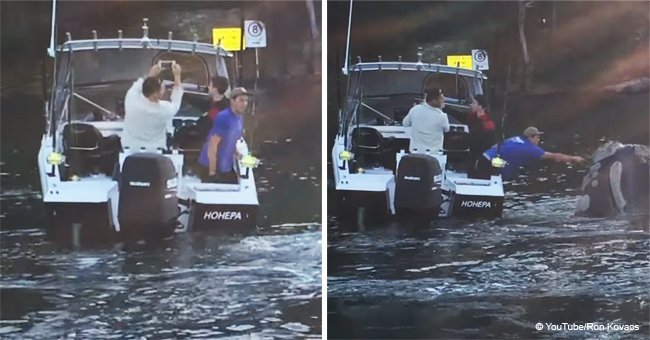 The incredible moment a whale 'asked' two fishermen to remove rubbish from its mouth
An incredible moment when a struggling whale swam up to two young fishermen for help took place off Killarney Point, Ireland.
Sometime in August 2015, Michael Riggio and his friend, Ivan Iskenderian, went fishing when they had a once-in-a-lifetime encounter with a whale, as reported by Daily Telegraph.
Michael, 17, captured the moment in a selfie. In the now viral photo, his friend, Ivan, can be seen removing fishing line and a plastic bag from the whale's face. Michael also took a video of the incredible moment.
The friends were returning from a fishing trip when they saw the giant mammal in the upper reaches of Middle Harbour
They noticed that the whale was struggling with rubbish stuck on its face.
"It was right on his lip... he seemed like he wanted it off," Ivan said.
Ivan leaned over and managed to remove the entangled rubbish from the mammal. Several other boats also stopped to help.
After having the fishing line and plastic bag removed from its face, the whale slapped its fin on the water and swam away.
Ivan and Michael said they could hardly believe they encountered the large mammal.
"It was surreal, we couldn't believe our eyes," Ivan said.
"It's a once-in-a-lifetime opportunity, just seeing it so close," Michael said.
A number of whales have been washed ashore after dying from inadvertently consuming garbage thrown into the ocean.
Recently, a small pilot whale was found struggling to breathe and swim in a Thai canal.
Rescuers came to try to save the mammal, but it was to no avail. Before it died, it vomited up five plastic bags.
It was later found out, after a necropsy, that more than 17 pounds of plastic had clogged up the whale's stomach. The rubbish includes 80 shopping bags and other plastic debris.
Read more on our Twitter account @amomama_usa.
Please fill in your e-mail so we can share with you our top stories!