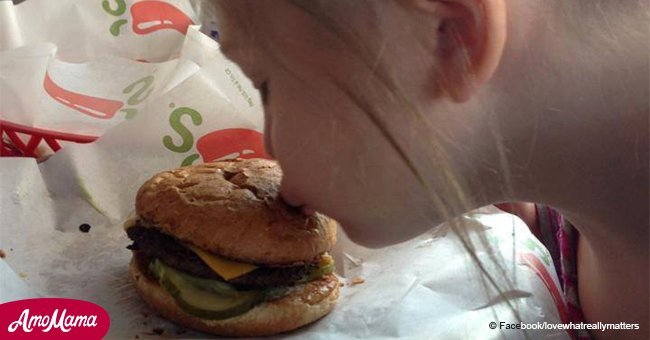 7-year-old girl with autism humored by kind waitress: 'OH FANK YOU! You fixded my cheeseburger!'
A woman shared her experience when she brought her autistic little sister out to eat at an eatery.
On December 25, 2015, her story was shared by Love What Matters on its Facebook page.
'I want to share the experience that my husband, 7 year old autistic sister and I had today at the Chili's location in Midvale, UT,' the woman wrote.
When the waitress named Lauren welcomed them at their table, her autistic little sister, Arianna, didn't waste any time and immediately ordered a cheeseburger with pickles, french fries, and chocolate milk.
"Okay! I'll be right back with your chocolate milk!" the waitress told Arianna.
However, when they got their foods, Arianna wouldn't touch her cheeseburger.
The woman then asked her little sister: "Arianna, are you going to eat your cheeseburger?"
"No, I don't want it," Arianna replied.
"Why don't you want it?" she asked.
"It's broken. I need another one that's fixed," replied Arianna.
'Then it dawned on me why she wasn't eating it. It's because it was cut in half,' she wrote. 'Being a child with autism, she has to have certain things in a particular order at all times. One slight change in her routine can change the course of the day instantly.'
The woman decided to order another cheeseburger when Lauren came back to check on them.
'She had a concerned look on her face so I explained that Arianna has autism, and that in her mind, because the cheeseburger was cut in half, she thinks its broken and can't eat it,' she wrote.
Lauren went to Arianna and told her: "I brought you a broken cheeseburger? You know what, I'll have them cook you a new one!"
The manager, Bradley Cottermole, also came to their table.
"I heard we gave you a broken cheeseburger! I am so sorry about that! We are making you a brand new one that isn't broken, with pickles! I'll bring you some french fries to munch on while you're waiting, ok?" Bradley told Arianna.
Lauren came back at their table a couple of minutes later with the new cheeseburger.
Arianna said: "OH FANK YOU! You fixded my cheeseburger!"
'When Lauren walked away, Arianna just sat there for a second and looked at her new burger. She looked like so deep in thought....just staring at it....then she let out a big "OH I missed you!!" and started kissing the burger over and over again," the woman wrote.
"I think we glorified the cheeseburger too much!" she told Lauren, who burst out laughing.
'I was so touched by this experience. Especially since I know people who have been asked to leave restaurants when their child with autism is being disruptive,' the woman explained.
Please fill in your e-mail so we can share with you our top stories!