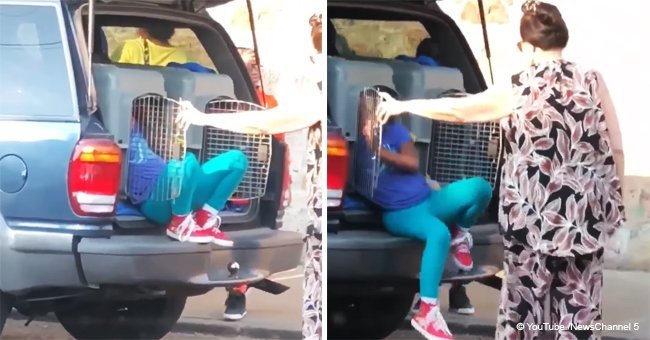 Grandmother charged for transporting children in dog kennels
A Memphis grandmother was arrested after she was caught on video transporting children in dog kennels. She has been charged with child endangerment.
The footage was filmed by a concerned citizen on Elvis Presley Boulevard in Whitehaven on Saturday and shows the 62-year-old Leimome Cheeks letting her granddaughter out of a dog kennel.
The passerby notified authorities, and the incident soon made headlines. Reporters from WREG tried to contact the Cheeks' family but had no success.
After her arrest, the woman's grandchildren told authorities that they had to get into the cages because there was no room for them in the backseat of Cheeks' vehicle
The children, a seven-year-old and eight-year-old whose names are withheld from the public, said they were hot. Temperatures reached up to 95 degrees, and there were no air vents.
The grandmother-of-two didn't deny the horrific allegations, even admitting that her grandchildren were locked in the kennels for the duration for a 35-minute drive to Collierville.
Her neighbors were shocked when they heard the news, and said it was out of her character for the caring grandmother to treat her grandchildren in such a manner.
Many of her neighbors had known her for years. Skylar Black said he was surprised because "she's such a nice lady." His wife, Nikita, agreed.
I'm just, oh! Just sad! For the babies to be in the hot car like that. And on top of that, in cages.
Nikita Blake, a neighbar, WREG, June 10, 2018.
According to her neighbors, Cheeks is a woman of faith who cares deeply for her family, friends, and members of the community. She recently brought two German Shephard puppies, which explained the dog cages.
The story is still developing, follow our Twitter account, AmoMama USA, for the latest updates.
Please fill in your e-mail so we can share with you our top stories!