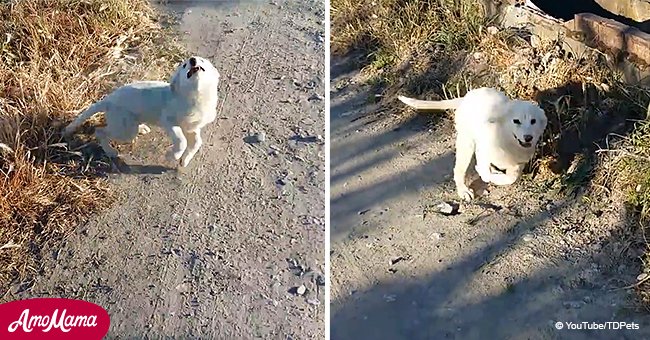 Stray puppy cries out in excitement when he is rescued by a jogger
The abandoned puppy is given a new lease on life after being rescued by a kind-hearted individual.
On August 16, 2016, a stray dog was rescued by a jogger in Simeoforidi, Skidra, as reported by Newsflare.
In the heartwarming video that has surfaced online, the white dog is seen jumping around when the jogger found him. The poor puppy even asked for belly rubs.
The rescuer explained that the dog's reaction when he finds him at the field was both sad and happy.
"At this place, I go for my daily running and I see that someone left the puppy in the fields far away from the village and 500 meter far is a busy street," he added.
The rescuer immediately gave the homeless puppy food and water. Then, he called the animal rescue to come and take him.
"Finally he is okay and the puppy has a home now," he explained.
There's no easy answer to growing number of stray dogs being rescued around the world.
In 2016, the rescue team of Animal Aid Unlimited, India were captured on film rescuing an injured dog, who was hidden inside an old storeroom.
The rescuers wasted no time when they received a call about a stray dog. They immediately went to the scene to investigate.
The team then found the dog lying in the rubble as if he had lost all hope. The poor dog was unable to walk.
In the video, the rescuers are seen covering him with a blanket. Then, they carried him to the shelter.
After checking the dog's condition, they found out that he was suffering from a spinal injury. Luckily, there were no broken bones.
The rescuers named him Alby and they gave him the best they can.
Although Alby couldn't walk properly, he was getting better.
The clip mentions: 'After 1 month of medical treatment, physical therapy and rest, meet Alby today!'
The video shows how the dog began blooming with health. His impressive transformation was definitely something wonderful to behold.
Please fill in your e-mail so we can share with you our top stories!