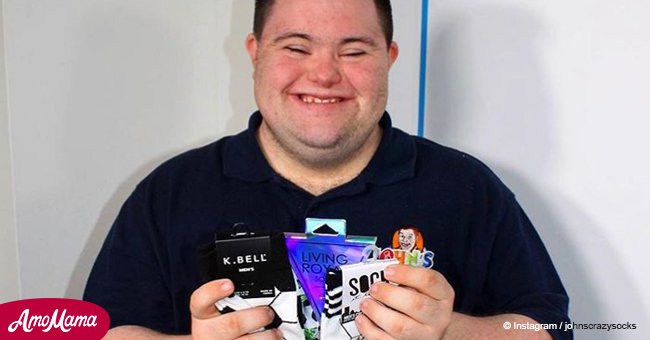 21-year-old man with Down syndrome founded million-dollar company
A young man with Down syndrome and his father prove that one extra chromosome doesn't need to stand in the way of anyone's dreams.
John Cronin has proven that although running a business is tough work with a lot of moving parts if you really set your mind to it, you can do it. It doesn't matter who you are. If you have an idea and you stick to it, you can be a success.
Back in 2016, the 21-year-old told his dad, Mark, that he wanted them to start a business when he graduated from high school, but he wasn't sure what kind. He thought about putting up a food truck but soon realized that cooking wasn't his strength.
After that John and Mark have the idea to sell socks because John had worn crazy socks his entire life. John believed it would be fun and creative, and the pair decided to give it a chance, as Today reported.
"John had worn crazy and colorful socks his whole life, so it was something he loved and he suggested we should sell socks," says Mark. "Socks are fun and creative and colorful, and they let me be me," says John.
"John's Crazy Socks" was launched on December 9, 2016, and became an immediate success. In just over a year the Cronins have shipped more than 42,000 orders and brought in $1.7 million in revenue.
What makes this company so special are the 4 principles the Cronins standby. The first is their commitment to hiring people with disabilities. "Here's what people with disabilities can do if you give them a chance," Mark told Today.
The second is giving back. John's Crazy Socks donates 5 percent of its profits to the Special Olympics. John himself is a Special Olympics athlete.
The third is their wide range of sock choices which includes over 1,200 pairs of fun, crazy themed socks including taco socks, bowtie-wearing llama socks, and socks that look like library cards. They even have Donald Trump socks with wispy blonde hair that can be styled.
The fourth principle is gratitude. Every package is paired with a handwritten thank you note from John. The personal touch is a form of gratitude John aims to express to his customers. John and his dad definitely know how to run a business.
Entrepreneurship has the ability to unlock human potential, no matter what type of entrepreneur you happen to be. It allows people to craft their destinies by finding meaningful work that doesn't just help themselves, but others as well. Read more on our Twitter account @amomama_usa.
Please fill in your e-mail so we can share with you our top stories!