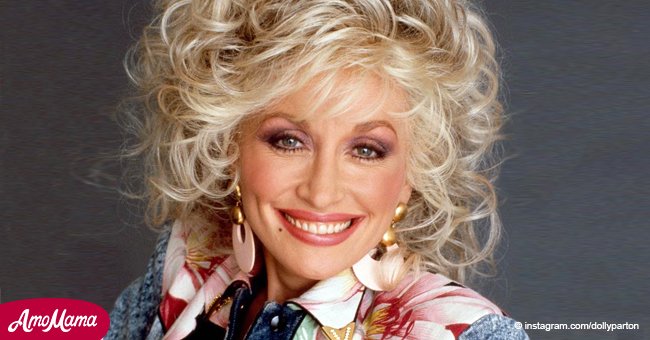 Dolly Parton revealed why she hid her real hair under a wig for years
Parton is characterized by fancying up for any type of public appearance. She has always been seen in full glamour and is known to wear wigs. She is very open about her reasons to keep doing so.
The 72-year-old Country music star has nothing to hide about her beauty enhancements and she was sincerely outspoken when she addressed the subject for a 2003 interview with NBC host Al Roker, reported CBS News.
The Jolene singer admitted having started wearing wigs as she noticed that her hair was getting too thin to match the persona she developed on her long career even if she was to dye it.
She added that she was careful not to let anybody see her without her heavy makeup and wig in public because she had to live up to her own standards in order to not disappoint any of her loyal admirers.
Parton has always been the first to admit the artificiality of the way she presents herself to the world. She has no reservations when it comes to crack jokes at her own expense and admit how 'phony' she is.
The Here You Come Again singer has come to accumulate quite a collection of wigs in her wardrobe. She recurred to them to stay true to her character and with time she became really fond of them.
It might be an outdated sense of glamour from an authentic country girl, but she stuck to it for decades and doesn't seem to be changing it any time soon. She doesn't consider herself a natural beauty and believes she looks best that way.
The celebrity joked that she couldn't imagine a situation that forced her to leave her room with no makeup, not even if her long-time husband Carl Dean was 'dying of a heart attack.'
Parton is so strict about her appearance that her own manager Ted Miller has claimed that he has never seen his client without all her appendages. According to him, she has to be in full regalia any time they meet.
'She may sleep in it. I assume Carl Dean has seen her not in full-regalia,' added Miller.
In 2014, when she was celebrating 50 years of recording career The Guardian's Tom Lamont met Parton for an interview amid one of her concert tours.
The journalist witnessed how her staff made sure she was ready before anybody could get to see her. 'Dolly's coming off hot,' he quoted her team with saying as their way to announce that she was in full character.
Despite acknowledging that so many things about her persona are artificial, she is optimistic in her belief that people know her enough to know that underneath her carefully produced persona there is an authentic human being.
'I've been around a long time. Long enough for people to realize that there's more to me than the big hair and the phony stuff. The magic with me is that I look completely false when I'm completely real,' she said.
Parton remains one of the most-honored artists in the history of Country music. 25 of her albums have been certified as Gold, Platinum or Multi-Platinum in the U.S. Read more on our Twitter account @amomama_usa
Please fill in your e-mail so we can share with you our top stories!