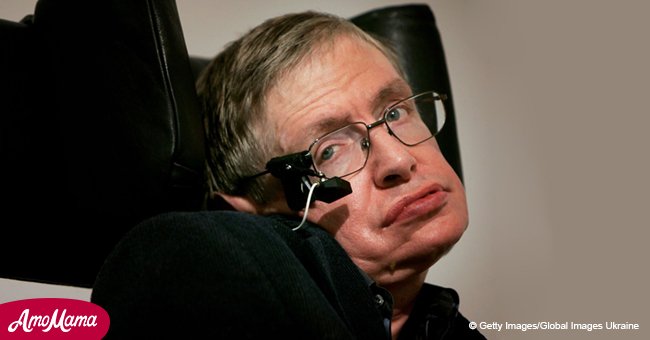 Final farewell to Stephen Hawking as his voice is beamed into space
A satellite will broadcast the physicist's voice to the distant stars.
Professor Stephen Hawking, one of the world's acknowledged greatest scientific minds died at his home in Cambridge, England, early in the morning of 14 March 2018, at the age of 76, but his voice will be reaching out to the distant stars, reported BBC News.
Hawkings revolutionized theoretic physics with his unconventional, brilliant thinking and brought the rarefied world of quantum and relativistic physics to the laymen, with his best selling book "A Brief History of Time."
Although his mind traveled through time and space, Hawkings was confined to a wheelchair by a progressive disease. He had been diagnosed with amyotrophic lateral sclerosis - ALS - or Lou Gehrig's disease when he was just 21, and at the time, doctors gave him a life expectancy of two years.
Hawkings lived 53 years beyond their expectations, though his physical condition became progressively more debilitated.
On the 16th of June 2018, Stephen Hawking's ashes were interred in a touching ceremony in Westminister Abbey. The physicist's earthly remains will rest between the two great British scientists - Sir Isaac Newton and Charles Darwin.
After the services, a recording of Hawking speaking was beamed towards the nearest black hole from the European Space Agency satellite dish at Cerberus in Spain. His words are described by his daughter Lucy as "A message of peace and hope, about unity and the need for us to live together in harmony on this planet."
Hawking's words were set to an original score written for the occasion by the composer Vangelis, and titled "The Stephen Hawking Tribute."
Hawking's greatest dream had been to go into space, and it looked as if it would come true when Richard Branson offered him a free flight into space with Virgin Galactic's first mission.
Sadly, the commercial flights had not yet begun when Hawkings suv«ccumbed to his disease, but his voice will be echoing through that black hole and perhaps reaching the many universes he believed to exist, waiting to be discovered by mankind.
Read more about Stephen Hawking on our Twitter account @amomama_usa
Please fill in your e-mail so we can share with you our top stories!