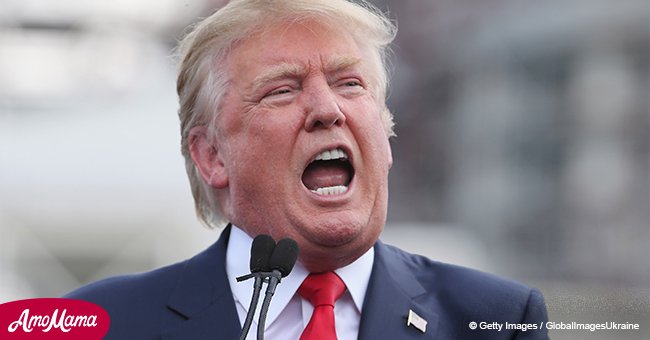 Photo of cloud that 'looks like' Donald Trump goes viral
A South Carolina resident posted a picture of the skies where a cloud showed resemblance to the outline of President Donald Trump.
Aj Brackins from Gaffney, South Carolina, posted pictures of a cloud that looked like Trump on Facebook on June 14. June 14 also marks Trump's 72nd birthday.
Brackins captioned the photo with the hashtag #MAGA, which is the abbreviation for Trump's 2016 campaign slogan 'Make America Great Again.'
The photos gained traction and started to flood with comments. It was shared over 150 times on Facebook. Most of the comments were written by Trump supporters who were elated by the natural phenomenon.
There were several comments by critics of the POTUS who mocked, ridiculed, and trolled the photos of the cloud resembling Trump on social media.
Social media user, Brett Frady, was right when he predicted that the photos will go viral on social media. A Trump fan, Amanda Dodd, found the resemblance 'pretty cool' while another user, Amanda Peeler, found the images 'awesome.'
Netizen Mary Juarez said that the natural event was a sign that Americans picked the right person to take care of the country.
On the other hand, many comments, especially from Trump critics, commented on the photo with harsher opinions. One commenter, Vikki Pirttinen, commented that the cloud had as much hot air as the person it resembled.
Another commenter, Denis Cote, wrote a comment in the form of a caption, 'Smoke rises from Mount Doom!' Social media user, Norma Lopez, said that she saw a cowboy in a cowboy hat in the photos of the clouds.
One follower, Aiweras, tweeted that even nature pointed out that Trump was creating a shadow on the future of USA.
Another user, James T, mocked the cloud photo by impersonating Trump's style of speech. He shared the photo of the cloud and captioned it with 'Nobody forms clouds like I do. The best clouds are Trump clouds.'
Trump has faced criticism for his administration's 'no-tolerance' policy to immigrants from the southern border between USA and Mexico.
The policy has resulted in the separation of several immigrant children from their parents, as reported by BBC. Read more about President Donald Trump on our Twitter account @amomama_usa.
Please fill in your e-mail so we can share with you our top stories!