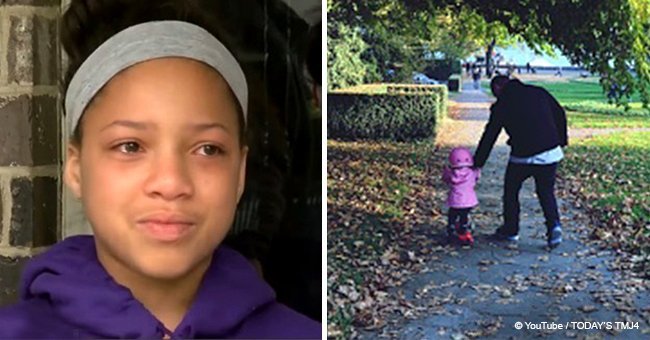 Vigilant 12-year-old saved toddler from being kidnapped by creepy neighbor
Without wasting time to call adults, 12-year-old Jada Miller took matters into her own hands and actioned to rescue the 4-year-old Caylee Carr.
Jada Miller described her ordeal in an interview given to WTMJ. She recalled that the evening in the suburban neighborhood in Kenosha, Wisconsin.
A group of children was out playing and 12-year-old Miller saw one of her younger neighbors, 4-year-old Caylee Carr being led away from her house by a stranger.
She looked around for adults but found no one. Miller took off after the stranger without wasting time, while her friend, 13-year-old Trinity Stout took off in the opposite direction to call the toddler's parents.
Miller explained how important it was to act immediately and that going to call adults would just lead to delay in action, in case the adults were preoccupied
Source: Freepik
She said that once she grabbed Caylee from the suspect, Caylee turned to tell him that she'll come back later. Miller sternly looked at the suspect and mustered, "No, she will not!"
The suspect, 27-year-old Benjamin Spasogevich-Lee, was new to this neighborhood and had introduced himself as Elijah or Eli. He was already considered suspicious by some parents due to his strange behavior.
Source: Freepik
Neighbors claimed that he would perform yoga exercises in his underwear in his front yard. He has also allegedly questioned the kids a lot, explicitly on the topic of kidnapping and rape.
Caylee's father Jeff Carr also said that he once noticed Spasogevich-Lee stripping down to his underwear when the school bus was coming around, in plain sight.
Spasogevich-Lee has now been jailed under charges of kidnapping with a bail set for $ 15,000. He has also been instructed to stay away from anyone who is 18 years or younger if he gets out on bail, as reported by Newsner.
Read more about on our Twitter account @amomama_usa.
Please fill in your e-mail so we can share with you our top stories!