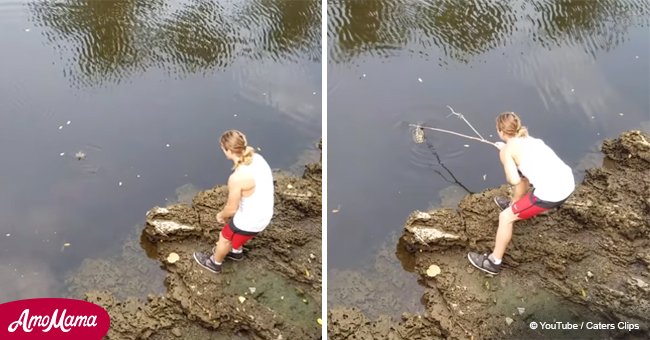 Turtles rescued from certain death after being chained together and dumped
Locals Michael Oakes and Peter found two turtles chained and locked together near Miami River.
Oakes used a penknife to free them, friend Peter filmed the entire ordeal and uploaded it on Youtube. Michael Oakes couldn't believe his eyes as he walked across the Miami River bridge in Florida.
His friend Peter spotted two turtles struggling to swim. And it wasn't long before the two locals realized that the turtles have been chained together.
Oakes finds his way down to try and help them and discovers that someone has drilled holes into their shells and that not only chained them but also added a padlock.
Using a stick to help the turtles come onto a rock for closer examination and just a penknife that Peter luckily happens to be carrying, Oakes helps set the turtles free.
In the video, Oakes was seen holding up the turtles towards the camera. The holes in the shells, their chains, and a padlock were visible.
Peter exclaimed that the turtles' shells had probably been drilled into and then chained.
Source: Freepik
Oakes also added that one of the turtles was bleeding, probably because the drill had gone too far. On the bigger turtle, there was a second hole that went deeper and he could see ripped raw flesh.
Both believed that the perpetrator must have been a local resident and could have used an electric drill to make the holes.
It was lucky that they spotted the turtles otherwise the creatures would have starved while still being chained together.
Oakes and Peter expressed her disgust in the video while struggling to help the turtles break free.
Peter repeatedly exclaimed that he'd want the video to be seen by the perpetrator to make it evident that someone could risk going to jail or worse if they were caught doing this to any animals.
Please fill in your e-mail so we can share with you our top stories!