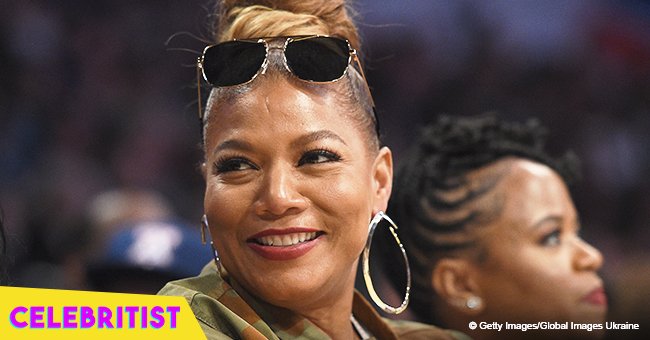 Queen Latifah's rumored ex-girlfriend sizzles in rainbow-colored bikini, flaunting enviable body
Queen Latifah's rumored ex-girlfriend Jeanette Jenkins stuns in rainbow-colored bikini flaunting her enviable beach body.
The fitness trainer posted a mirror selfie on Instagram earlier this week, showing off her toned body and extremely flat stomach. In the photo, she donned a rainbow colored string bikini while posing in front of a mirror. Jeanette was flaunting her beach-ready body in promotion of her 30-day summer fitness bootcamp at the Hollywood Trainer Club.
While Queen Latifah and Jeanette never confirmed their relationship, the two of them have been caught getting cozy with one another on numerous occasions in the past.
The "Secret Life of Bees" star was caught enjoying Jenkins' company in France a couple of years back, even sharing a tight hug with one another on the deck of a luxury yacht in the Mediterranean sea. The two girlfriends were accompanied by the gorgeous couple Alicia Keys and music producer Swizz Beats, who were celebrating their honeymoon as their yacht sailed off the coast of Saint-Jean-Cap Ferrat.
The affectionate pair was caught helping each other cover up in sun tan lotion. Just a week prior to their yacht sighting, they travelled to Corsica together for the wedding of the lovely couple they were with. Keys and her husband were expecting their first child that same year, and made their relationship official in front of a small group of close friends and family.
However, after being in the spotlight for her cozy pictures with Queen, After Ellen received exclusive news from the celebrity trainer, who has worked with several public figures such as Paula Patton, Kimora Lee Simmons, and of course, Queen Latifah. According to Jenkins, the rumors of her and Queen Latifah dating are not true, and that she is not gay.
"I have gay friends, but I'm not gay."
Jenkins also reminded the publication that her private life is separate from her career as a health and fitness expert. She now peacefully lives in Los Angeles, continuing her work as a fitness trainer.
Please fill in your e-mail so we can share with you our top stories!