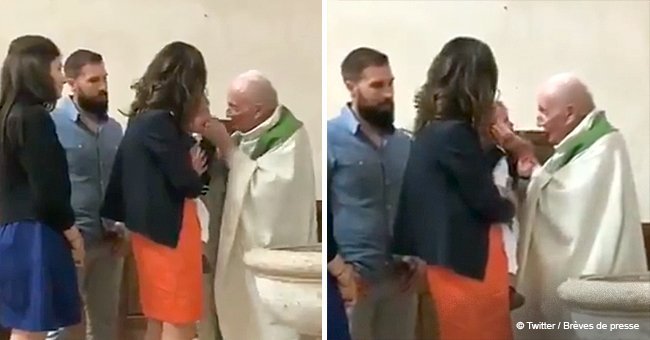 People outraged over video of priest slapping crying baby during baptism
Shocking footage of a French priest slapping a defenseless baby went viral earlier this week when a Reddit user uploaded a video to the popular site.
The Reddit user, known only as Gearsdom97, shared the video with the caption 'This happened today in France, I'm really shocked.'
The origin of the 45-second video is still unclear, and little information was released with it. However, netizens from around the globe are outraged.
As reported by Independent, the Priest says in French in that he will put water on the child's forehead, after which he'll embrace the toddler 'because he will have become a little Christian'
However, the clergyman loses his cool when the baby doesn't stop crying and slaps him hard across the cheek without warning.
The people gathered around, reportedly also the child's parents, gasp in shock and the woman tries to remove the infant from the priest's grip.
He held on tight to the baby, gripping the boy by the neck and head until a man steps in and forcibly wrestles the child from the priest.
David Tarrington-Hodgson said on Facebook that it's time for the priest to retire. He remarked that the dad 'kept his cool,' something he would not have been able to do if it was his child.
Sierra Quick said if it had been her child, the priest would 'be picking his teeth up off the floor.'
Another Facebook user, Quan Tran, said he would have slapped the priest so hard 'he will see God.' He added that 'you don't slap a little baby that way'
A concerned mother, Sue McGrew, noted that she was physically ill after watching the shocking footage and called for the priest to be arrested.
Additional details will be released as they become available. To learn about this incident, follow our official Twitter page, AmoMama USA.
Please fill in your e-mail so we can share with you our top stories!