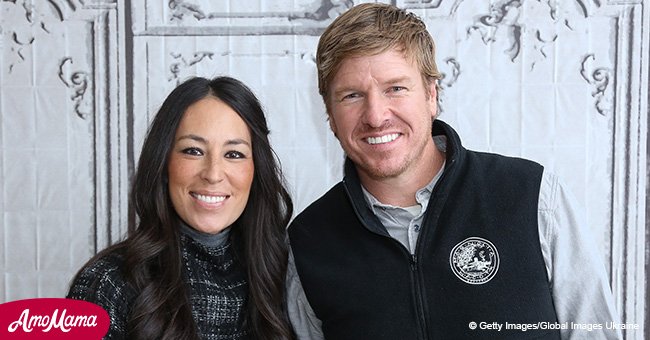 Joanna Gaines and her husband Chip have welcomed their fifth child
Reality television stars Chip and Joanna Gaines announced the birth of their fifth child this weekend. Chip took to social media on Saturday to reveal that their baby boy had been born.
In his Twitter post, he also shared that his wife and the baby were doing well. Joanna took to Instagram to share the child's first picture and name.
Chip, 43, revealed on Saturday morning that The Fixer Upper family were 'blessed beyond belief' to welcome their new addition. The baby boy is the sibling of Emmie Kay, 8, Duke, 9, Ella, 11, and Drake, 13.
Joanna, 39, then shared a photo on Instagram revealing the baby's name. She captioned the photo with 'Our baby boy, Crew Gaines, is here and we couldn't be more in love.'
Crew is a break from the Gaines' tradition of "D" names for their boys. Their first two sons were named Duke and Drake.
The couple announced to their fans that they were expecting a fifth child in January. Chip shared a photo with Joanna showing off her baby bump.
'And then there were 5.. The Gaines crew is now 1 stronger! 10 beautiful toes and 10 beautiful fingers all accounted for, and big momma is doing great!'
Chip Gaines, Twitter, June 23, 2018
In that post, Chip also had a fake baby bump which Joanna held while he remained coy. 'Gaines party of 7 ... (If you're still confused ... WE ARE PREGNANT),' Chip captioned the photo.
In the same month, Chip made a tongue-in-cheek tweet revealing that their pregnancy had resulted from a romantic evening at a concert from Americana duo Johnnyswim.
After those two posts, Chip revealed that he and his wife were expecting a boy. He asked a child named Gage to help him "think of a D-name" presumably to match his older sons' first initial.
The couple recently opened up to People about their soon-to-be-born fifth child. Joanna confessed that her husband was the best swaddler.
She admitted that he'd always been able to rock their babies to sleep. With regards to diapering, she added that they needed to figure that one out again.
"I joke with my friends that I'm going to be that 45-year-old who's pregnant," Joanna revealed. "Chip is such a kid at heart and we both love a big family. I'm open to whatever. I'm just having fun with it," she added.
Two weeks ago Joanna had a book-themed baby shower for her latest birth. She shared Instagram images of the event and admitted that she loved books and was in awe of the decorations.
For more on this story go to our Twitter account @amomama_usa.
Please fill in your e-mail so we can share with you our top stories!