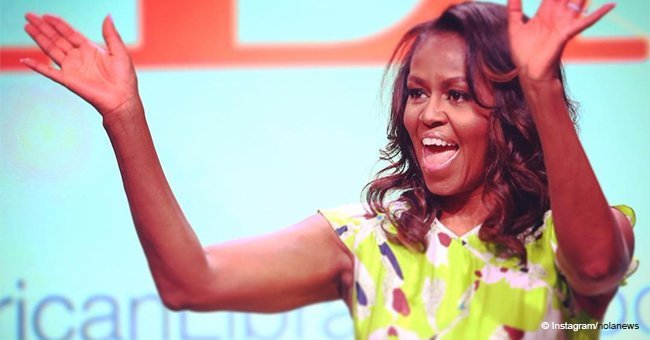 Michelle Obama wears green summer dress to ALA conference
The former First Lady of the United States, Michelle Obama, turned heads when she attended the American Library Association Annual Conference.
In a tweet shared by the ALA, Michelle can be seen wearing a bright yellow-green dress with ruffled sleeves and a flared skirt.
According to Pop Sugar, it's a $595 Tanya Taylor creation which she paired with a dark cranberry belt and denim-colored high heel shoes.
The outlet reported that this dress is perfect for someone who's determined to stand out, and is most definitely not for the 'faint of heart'
The Librarian of Congress, Carla Hayden, said on Twitter that she was inspired by Michelle and said it's a great way to start the ALA. To learn more, follow our Twitter page, AmoMama USA.
As reported by Daily Mail, Friday was an emotional morning for everybody attending the event as Michelle explained how she balanced motherhood with being the 44th first lady.
She said changing children's lives was her main drive while being First Lady. Even just one hug or saying "you're worth it" could positively impact a child's life.
Michelle's memoir, Becoming, will be released later year, and will cover information from her childhood as well as experiences which shaped her into the woman she is today.
She also discusses her time at the White House and how their time as America's First Couple impacted the lives of their children, 19-year-old Malia and Sasha, 17.
"If they know you love them, unconditionally, you can live in the White House; you can live the little bitty apartment that I grew up in. Home is what you make of it."
Earlier this month, Michelle and other former living First Ladies spoke out against the separation of migrant children from their parents as a result of Trump's zero-tolerance policy.
Laura Bush, a former first lady, said on Twitter that the 'zero-tolerance policy is cruel,' adding that it is immoral and it breaks her heart.
Michelle retweeted Laura's message and simply said 'sometimes truth transcends party.' Both Laura and Donald Trump belong to the same party.
To show her support, Hillary tweeted that 'there is nothing American about tearing families apart.' She added that the migrant children 'can't wait for a new Congress in November.'
To date, she's fundraised more than $500,000 for organizations like Florence Project, Asylum Advocacy, Support Kind and Women Belong; organizations that have vowed to help during the migrant crisis created by Trump.
Please fill in your e-mail so we can share with you our top stories!