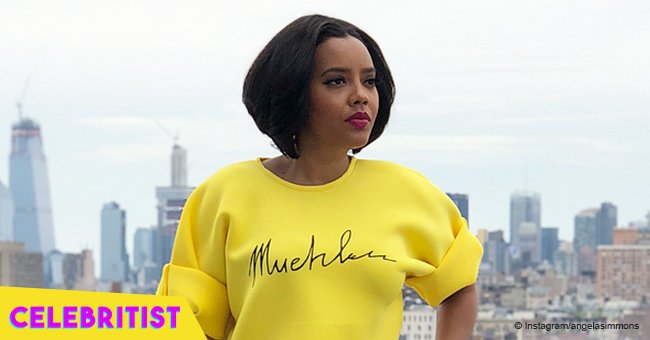 Angela Simmons shows off firm assets in thong bathing suit after revealing body image issues

Angela Simmons' body is stunning in all its curvaceous glory in a recent photo she shares. But she also admits she used to despise those curves revealing a painful past that often left her in tears.
Angela Simmons is celebrating her body in her recent post, but that wasn't always the case according to the reality star who admits having body issues growing up.
"No photoshop, this is real life" according to the 30-year-old who showcased her ample derriere in a post where she dons a skimpy orange swimsuit. She looks toward the camera as the wind blows her hair and while her thong swimwear exposes her behind. Angela is standing on the shore overlooking the vast ocean as she lays one leg on a rock. She was celebrating her body that she proudly admits is the real thing.
But Angela wasn't always confident in her skin as she reveals to 'The Breakfast Club' on Monday. She said she always thought she was fuller compared to her siblings.
"Growing up, honestly speaking, when I was younger, I grew up kind of thicker. They were always small and I always felt like, 'I'm big.'"
At the time, she revealed, she didn't care about her curves and always thought of them as an obstacle.
"I didn't embrace my curves because I was so young. I kind of had a little journal I would write in and I would always be like, 'I think I look like this.' And I had a little diagram and I would draw this big person and then… draw the person I want to be, skinny. And it was like, I had body issues. Growing up, I was concerned that I was fat. I was like, 'I just feel fat'."
She confessed she would cry about it all the time because she didn't understand why everyone around her was slimmer than her.
But that changed when Angela moved to Los Angeles, an adult at 18 or 19 who was "in control" of her body. She said her mindset shifted at that point and she began to work towards achieving the body she wanted.
"I met a trainer out there, Mike T, and I worked out day in, day out, to the point where I got super small. My mom was like, 'You need to eat!' And then I just learned how to figure it out. Just work out, eat right, you're good. But I definitely grew up with body image issues."
Watch her full story here.
Today, Angela is a mom to son Sutton Joseph, and she still manages to keep her body toned through intense workouts she often shares on her Instagram. She's learned to embrace her curves flaunting them in swimsuits like the one she shared recently. Fans are also loving her body and are inspired by her. Just take a look at the body she certainly can be proud of.
Please fill in your e-mail so we can share with you our top stories!