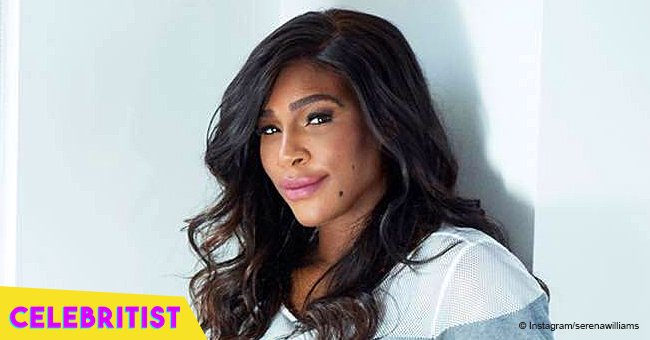 Serena Williams' little daughter Olympia steals hearts in ladybug outfit
Alexis Olympia might be only nine-months-old, but the adorable girl already has her own Instagram account and a bunch of fans who are continually melting with her cute photos. Serena Williams is enjoying the perks of motherhood so much that she recently confessed she wants to have another baby.
As the daughter of one of the most iconic tennis players of our time is only natural that baby Olympia has the best life a girl can dream of. With just nine months, the girl has already traveled around Europe, featured in a Vogue cover, attended a royal wedding and met most celebrities than the average child of her age.
Not only is she the star in her Instagram account, managed by her parents, but she's also the center of attention on Serena's and Alexis Ohanian's social media accounts. The girl's photos give us a glimpse into her luxurious but happy life, and while every shot of the baby is adorable, one of her most recent pics managed to make fans have a collective meltdown over her cuteness.
In the shot, baby Olympia is seated in the middle of a bed wearing a ladybug outfit. Not only is the gear one of the cutest she has worn, but also her wide-eyed expression caused people to fill her comment section with praises and beautiful messages for the girl and her mom.
Serena and Alexis are aware of the power that their daughter already has, as proven in a recent Instagram Live session that the Reddit Co-founder did. The Q&A event was aimed to answer young entrepreneurs' concerns, but when the time came, most of the questions were related to Ohanian's life with Serena and his daughter.
The 35-years-old admitted that before Olympia, he didn't use to take care of himself, but after finding out that his then fiancé was pregnant, he decided to make his life better by changing his diet, quitting some vices and starting a more fitness-focused routine.
"Olympia inspired me because the moment I found out we were going to have her, I just got my life together. I owe her for helping me out with that," he admitted.
For Serena, on the other hand, Olympia's birth was the best thing that could have happened to her, even though her life was at risk after bringing the girl to the world.
Williams had to undergo an emergency C-section because, at the time of the delivery, Olympia's heart rate suddenly decreased.
While the baby was born without any more complications, what followed for the tennis champion were hours filled with anguish and confusion. The 36-years-old recounted to CNN her experience a few months ago.
Serena suffered a pulmonary embolism that caused her C- section wound to pop open because of her intense coughing, so she had to be taken back into the surgery room, where doctors found a large hematoma in her abdomen. To avoid blood clothes from traveling to her lungs, she had to undergo another process. Luckily, everything worked out, but she had to spend the first six weeks of motherhood in bed.
However, the 23-times Grand Slam champion wouldn't trade her daughter for anything.
Speaking to ET in March she said "It's been amazing. I've always wanted to be a mom, but I never seemed to have time with my career. Then, it just happened, and I was like, 'I don't know.' I just dove right in."
"It's so natural for me," she added. "I love it. I love her so much. We have a great little family going on."
The tennis star also revealed that she definitely wants to have more kids in the future, but right now, she's enjoying life while trying to split her time between her career, her daughter and her new business endeavors that include a clothing line.
"I definitely want two [kids], God willing," she said. "But right now, I want tennis as well. So, I'm going to wait and see what happens."
"It's definitely not easy. I have this undying drive to be the best that I can be. Whether it's [being] a mom or playing tennis or doing my designing. I just want to do the best that I can," she concluded.
Please fill in your e-mail so we can share with you our top stories!