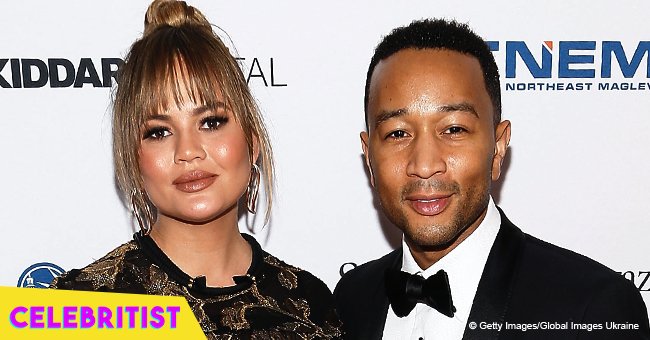 Chrissy Teigen stuns in mini black dress just 6 weeks after giving birth
Chrissy Teigen is setting the bar higher for post-baby goals showing up at an event looking stunning after giving birth in May. The model wife of John Legend showcases her slim legs, tiny waist and ample cleavage in photos from her date night with her husband.
Chrissy Teigen just gave birth to her second child six weeks ago, and she's already rocking a gorgeous post-baby body. The 32-year-old model mom flaunted her curvy figure attending the star-studded Restoration Hardware x General Public launch in Los Angeles with her husband, John Legend.
The mother-of-two wore a sophisticated black mini-dress with a plunging neckline that showcased her ample cleavage and her long, slender legs. The long-sleeved ensemble was cinched at the waist with a black sash revealing her surprisingly tiny waist, just over a month after giving birth. Christy pulled her hair back in a sleek ponytail and highlighted her lips with bold red lipstick as she stood tall in a pair of strappy black heels.
Enjoying her night away from her two kids, Christy linked her arms around her husband who cleaned up nicely in a shiny navy suit and fitted shirt paired with black shoes. The lovely pair laughed as they posed for photos.
The couple is currently adjusting to being parents of two, now that they welcomed their son Miles in addition to their two-year-old daughter, Luna. John is especially learning the big difference between a boy and a girl when it comes to changing diapers. He told USA Today,
"[The differences are] unclear so far! The diaper changing has been slightly different."
Luckily, the 'All of Me' singer admits he hasn't been sprayed on. His wife, on the other hand, isn't as fortunate.
A week after Miles was born, John confessed his daughter has been seeing the baby as her competition.
"I think she's just becoming aware that he's the competition. We'll see how that plays out, but I think it might be good because it's making her, like, she's doing more to ingratiate herself to us, which means it might be a good thing for her to have a little competition."
The singer also admits he's getting used to the unusual sleeping schedule again, and while he's losing sleep these days, he say's "it's ok." He adds,
"This is that period in his life and our lives where you get less sleep and work a little harder. I'm trying not to work too much outside of the house because we got a lot to do at home."
John and Chrissy conceived their children through in vitro fertilization, and the outspoken model has been very open about discussing it with their fans. She said she's all about talking about IVF to give hope to others through her success stories.
Please fill in your e-mail so we can share with you our top stories!