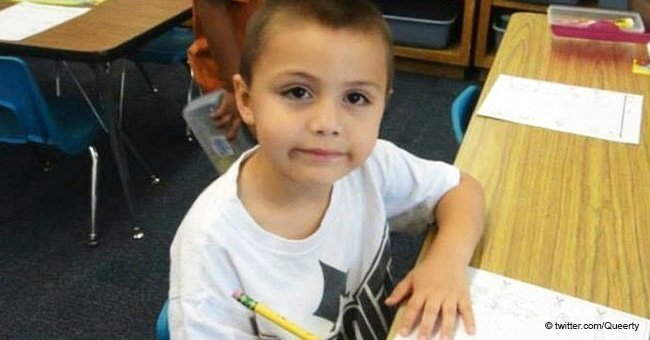 10-year-old California boy came out as gay weeks before his suspicious death
Anthony Avalos died last Thursday from severe injuries. An investigation into his passing found that his death could be linked to him coming out as gay weeks before.
According to Los Angeles Times, there had been many reports of abuse in the family home. The boy lived with his mother, her boyfriend, and 6 other children.
Anthony Avalos, 10, was found mortally wounded at his home last week Wednesday. He had severe head injuries and cigarette burns all over his body.
His mother, Heather Barron was the one who called 911 at about 12:15 p.m. last Wednesday in Lancaster. She said her son was unresponsive at the time.
For more on this story go to our Twitter account @amomama_usa. Avalos died in a hospital the following day.
Barron allegedly claimed that the injuries came from a fall. The deputy director of the Los Angeles County Department of Children and Family Services (DCFS), Brandon Nichols, revealed in an interview Monday that Avalos had "said he liked boys"
"One of the things that we have heard is that there may have been a motivation on the part of the man in the household regarding to the sexuality of the child, and so we're looking into that in a very deep way."
Bobby Cagle, ABC 7 News, June 26, 2018
However, Nichols declined to provide more details about the boys alleged coming out. He said the criminal investigation of the deadly abuse was ongoing.
Barron, and her boyfriend, Kareem Leiva, have not been charged with any crimes related to the boy's death. DCFS determined that Avalos probably died from child abuse.
Avalos' aunt, Maria Barron, said it would have taken great courage for the boy to have come out in the home. She revealed that she began alerting DCFS in 2015 of the possible abuse in her sister's home.
At the time, she had noticed bruises and other injuries that the children told her were caused by Leiva. The children also reported Leiva locking them in small spaces where they had to urinate and defecate on the floor.
Barron's boyfriend was convicted in 2010 of domestic abuse. He was also allegedly a member of the MS-13 criminal gang.
Around 16 calls were made to DCFS and the police in relation to Avalos. They began in February 2013 according to a statement obtained by the San Francisco Chronicle, made by DCFS director, Bobby Cagle.
The first call was an alleged sexual abuse by a grandparent that didn't live with Avalos or the other six children in the home. The boy had been 4-years-old at the time.
Other allegations included sexual, emotional and physical abuse as well as neglect. In a statement, Supervisor Kathryn Barger, who represents Lancaster, said, "Our partners in child protection are collaborating with law enforcement who are conducting a thorough investigation to identify the circumstances surrounding this unspeakable crime."
Please fill in your e-mail so we can share with you our top stories!