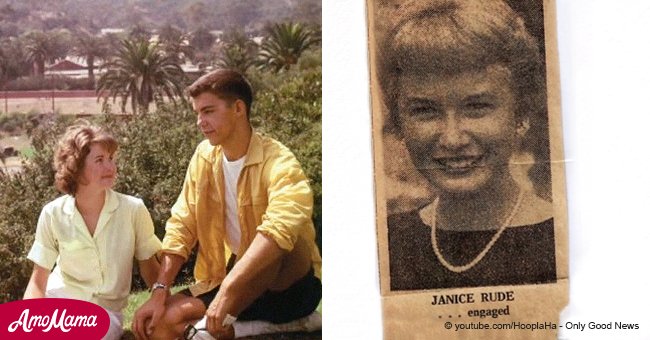 Woman's dad refused to let her marry, but 50 years later, they finally said 'I Do!'
It took Janice Rude and Prentiss Willson 50 years to seal their love for one another.
When they were in college, the couple got engaged but her father got in the way, as they recalled in a video shared by HooplaHa - Only Good News on YouTube last February 16, 2017.
Janice and Prentiss met at the Occidental College in Los Angeles when she was a sophomore and he was a freshman.
Prentiss said he fell in love at first sight of Janice, who was then working at the school cafeteria.
"I believe we were simply meant to be. I even remember the first time I laid eyes on Janice," Prentiss, a successful Bay Area tax attorney, said.
Follow us on Twitter @amomama_usa.
The courtship ensued and in no time, they became engaged. They even announced their upcoming wedding in the local paper. 'No date has been set for the wedding,' they stated in the announcement.
But Janice's father was no keen on giving her daughter away. He opposed the engagement.
"We tried to figure things out but I guess we weren't smart enough," Prentiss recalled. The couple tried to stay together but they were forced to part ways because of financial problems.
Prentiss went on to study law at Harvard and became a successful lawyer afterward. Janice, meanwhile, became a businesswoman in Reno Nevada. They both married someone else.
Then their mothers died within months of one another. That's when they discovered that both their mothers had kept a copy of their engagement announcement in the local paper.
"The mothers got it. The mothers simply knew," said Prentiss.
So they decided to look for each other and then finally married in their late 60s. Their story has captured the hearts of many people.
'How happy but how sad. They had to wait 50 years of their lives to marry and now with their age, they are too old to have children together. They should have gotten married secretly so they could have had the bliss of children to carry on his name and memory... Happy for them just the same.' Sharron Alley commented on YouTube.
Steve Melendez wrote: 'My all-time favorite video. Beautiful. Emotional.'
Please fill in your e-mail so we can share with you our top stories!