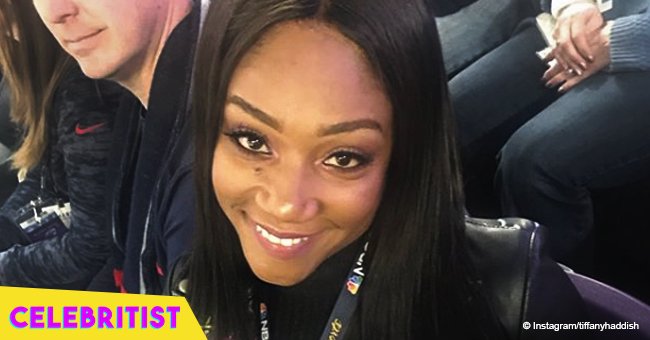 Tiffany Haddish and Serena Williams' ex-boyfriend spark dating rumors after leaving party together
Rumors have been swirling online that romance is brewing between Common and Tiffany Haddish, after the two were caught leaving a party in New York City together.
Last Tuesday night, Common and Tiffany were both filmed leaving an NYC party together, getting into the same black SUV. The Blast was able to obtain a video wherein Common could be seen guiding the actress past a sea of photographers, even grabbing her wrist to help her get into the car. Neither of the two entertainers addressed the romance rumors while walking towards the car.
While it is unclear how long Common and Tiffany have actually known each other, the actress was previously spotted attending his Toast to the Arts Party in Los Angeles last March. They are both currently set to star in a new movie called "The Kitchen" opposite Melissa McCarthy. The rumored couple also attended a movie premier for "Barbershop: The Next Cut" back in 2016, but they were not spotted entering or leaving the premier together.
Common has just recently split from political commentator Angela Rye, and previously dated famous Tennis champion Serena Williams from 2008 to 2010.
When Common was previously interviewed by TMZ regarding his ex-girlfriend's marriage to Alexis Ohanian, he had nothing but kind words to say. While he admitted that he did not see the wedding, he congratulated his ex-lover calling her a 'queen'.
"Nah, I didn't see it ... but God bless her. That's the queen! She's the queen! Congratulations to them!"
In 2011, it was rumored that rappers Drake and Common had a feud due to their feelings for Serena, using their songs to get back at one another and even engaging in a fist fight at the 2012 Grammy Awards.
When Serena and Drake were yet again linked in 2015, Common kept insisting that there was no bad blood between any of them.
Meanwhile, Tiffany shared her 'ideal man' to People Magazine during an interview last February.
"I'm looking for confidence, a good sense of humor, and responsible. Like, he's got to have a good credit score. That's super important because that's you're grown up report card, your credit score. He's got to have his own career going. I cannot be the center of his universe. I can be a major part of the universe but I cannot be the center of the universe."
Both parties have yet to confirm or deny their dating rumors, and for now, the world just has to wait.
Please fill in your e-mail so we can share with you our top stories!