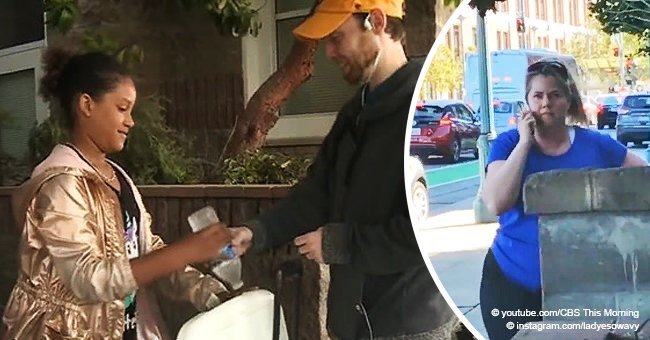 Woman caught on video calling police for young black girl selling water on the Street

A white woman called the police to report on an 8-year-old girl who was selling bottled water in front of the apartment building without a permit, as shown in a viral video.
Twitter user @_ethiopiangold took to the social network on June 23 to share that her younger cousin a mixed-race girl named Jordan Austin was selling water on an improvised stand when a woman confronted her to prevent her from doing it.
As Telemundo reported, Jordan set up her stand in front of her home, across the street from AT&T Park during a San Francisco Giants baseball game. The girl's cousin confronted the hostile woman and caught her on video for the world to see.
The caller, who was later identified as Alison Ettel, is seen walking away from the mobile phone camera while on the phone, allegedly speaking to the police. Ettel hides behind a wall but the woman filming follows her.
'This woman won't let a little girl sell some water. She is calling the police on an 8-year-old little girl,' the user narrates as she films. Read more on our Twitter account @amomama_usa.
'You can hide all you want. The whole world is gonna see you,' Jordan's cousin is heard telling Ettel. And she was right, for her post went on to gather thousands of 'likes,' and has been retweeted more than 90.000 times.
Jordan's mother, Erin, posted the same video to Instagram, where it has been viewed over a million times, and people has been expressing their outrage for what they consider an attack based on the girl's ethnicity.
'I've always had the image of little US kids selling handmade lemonade. And nobody complaining about sanitation or permissions. Now I've realized all those kids were white,' wrote a user.
People are now using the hashtag #PermitPatty to reference the angry woman. After her behavior backfired, Ettel showed regret when talking to a journalist about the incident.
'I completely regret that I handled that so poorly. It was completely stress-related, and I should have never confronted her. That was a mistake, a complete mistake. Please don't make me sound horrible,' she told Huffington Post.
Please fill in your e-mail so we can share with you our top stories!