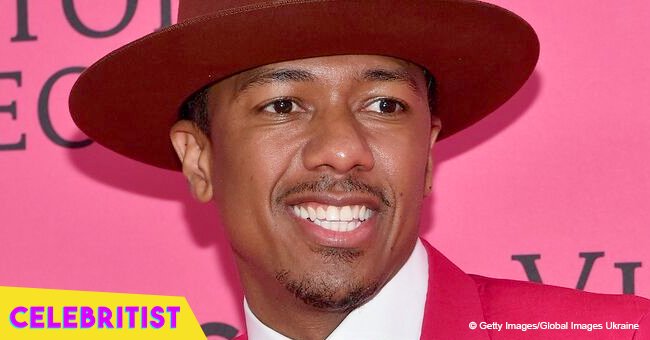 Nick Cannon's 1-year-old son steals hearts in striped jumper in recent pics with mom

Following his adorable photos wearing a turban, Nick Cannon's son Golden ushers in more cuteness picking his fruit for the first time.
Nick Cannon's 1-year-old son Golden spent a day at Underwood Family Farms with his mother Brittany Bell, who delightedly who took videos of him berry-picking with his cute little hands. In a series of clips, Golden approaches a blackberry plant and picks one upon his mother's instructions. He then samples the fruit and appears to enjoy it. Brittany asked if she could try it too and he adorably feeds his mother before tasting it for himself again.
Along with the videos, Brittany also shared photos of Golden who wore a blue and white striped jumper smiling and sticking out his tongue. There was one where he was brushing the hair of what appeared to be a dog or a goat and another clip where he's playing with a steering wheel.
Golden entertained his mother who also took selfies with him as they each wore matching hats with the toddler trying to play with his mother's.
It was only a few days before when the little boy entertained his mother's followers on Instagram pretending to be a genie in a photo she shared. Taking a cue from his turban-wearing father, Golden was wearing a gold turban with his eyes closed as if attempting to grant his mother's wish.
And that's not the first time. He also wore a red turban another time while holding on to a banana, still with his eyes closed. The little boy certainly rocked the bandana vibe.
Golden is the comedian's third child following his twins Moroccan and Monroe with his ex-wife Mariah Carey. The three siblings have met and are getting along well. In fact, in April, Nick revealed the twins would help their brother as he was learning how to walk.
"They love it. We get to spend every holiday together. Golden just took his first steps, and they were there helping him walk. It's cool to see 7-year-olds approaching a 1½-year-old and how they're taking on that big brother and sister role."
Nick has no problems getting his kids together because he has an excellent relationship with Mariah. It's been three years since they divorced but he admits he has unconditional love for her. He said this was also very important for their children to see, so they grow up to be good people.
"You're reminded that it's all about unconditional love and they've got to understand that to its core. Whenever we can show that – even if we're not together, [that] we love each other unconditionally – and become that fine example to our children, they'll grow up to be good human beings, hopefully."
Meanwhile, Nick and Brittany are friends too. Though their relationship didn't last long enough to see their son's birth, they've remained close, having grown up together.
Please fill in your e-mail so we can share with you our top stories!