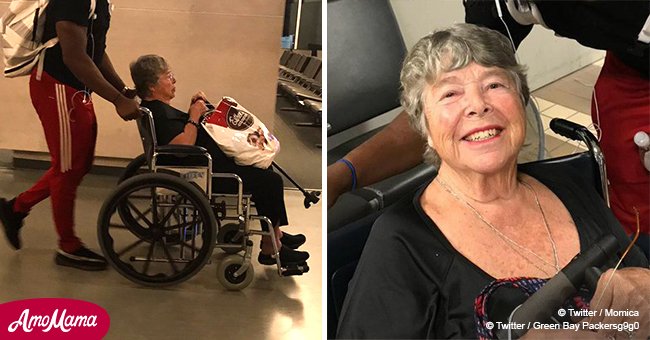 Traveler spots well-known sportsman helping elderly lady navigate airport (photo)
A recent photo went viral on Twitter when a man helped his co-passenger, a senior woman, who did not know his true identity.
Monica Alan, whose username is Momica, was at the Appleton International Airport in Wisconsin and realized that the man pushing the wheelchair was Green Bay Packers player Aaron Jones.
She immediately clicked a photo of him helping the grandmother and posted it on Twitter on May 28, 2018.
An individual's real character is revealed by what they do when one is watching. That is true in the case of Jones. When the plane landed at the Appleton International Airport, a woman struggled to carry her bags and use her cane.
Read more on our Twitter account @amomama_usa.
A young man, who had been sitting in the row across from her, saw her dragging her bags behind her. He immediately walked up to her and asked if she needed help.
She was glad someone had offered her help and accepted his assistance gracefully. He picked her backs and followed her off the plane.
When they were getting off the plane, the flight attendant informed her that someone would be waiting for her with a wheelchair.
However, they found no one at the jet bridge. Jones did not hesitate in offering his help in pushing her again. The woman agreed without realizing that the Good Samaritan was a famous footballer.
She learned of his true identity when they exited the terminal and met up with the woman's daughter, who noticed the Green Bay Packers tags on the man's bags and asked him if he played for the team.
The daughter clicked a few pictures and thanked the sportsman. He was quietly on his way.
Jones was not aware that his random act of kindness had been caught on camera by another person at the airport. The fan posted the photo on the micro-blogging site, and it soon went viral.
The footballer himself was surprised to find it on the internet when he logged in after reaching home.
Speaking to CBS Sports, he said, "You could tell she got excited and it made me happy. But I didn't know anybody had taken a picture until I got home and logged on to Twitter.
Packers' coach Mike McCarthy said that he was just thankful that everyone else is getting to see what he gets to see almost every day. He added that Jones probably did not know that his picture was taken, "that's just the type of guy he is."
Please fill in your e-mail so we can share with you our top stories!