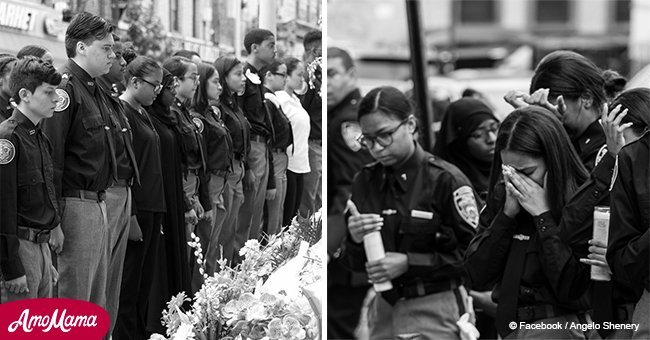 Thousands attend emotional funeral for 15-year-old Lesandro Guzman-Feliz
On June 27, 2018, thousands of people gathered to commemorate the life of Lesandro Guzman-Feliz, a 15-year-old boy who died from stabbing in a gang violence.
Also known as Junior, Guzman-Feliz was stabbed outside a Bronx bodega before he ran to a local hospital a few blocks away. He immediately collapsed and died as soon as he reached the medical facility.
The teenager's funeral was hosted by Our Lady of Mount Carmel Church and was partially conducted in Spanish. The entire funeral was covered and streamed by PIX11 News on YouTube.
The video showed family and friends wearing Yankee jerseys as a tribute to Junior, who loved the baseball team, CBS New York informed.
The mourners in the crowd were also heard crying out the plea of 'Justice for Junior' outside the church as pallbearers, including the boy's father, carried his casket.
Follow us on Twitter to learn more.
Father Jonathan Morris, who overlooked the funeral, mentioned gang violence several times throughout the service and invited the youth to "make a decision that they are going to choose life and light rather than death and darkness."
The Father also encouraged people to take the right action and try to be of help when they see something going bad. "Don't just take a video," he requested.
According to the New York Post, Junior might have been a victim of a case of mistaken identity in a gang attack. The suspects have been reported as belonging to the Dominican gang Tinitarios.
Allegedly, the gang members might have mistaken Junior for another teen, who made a physically intimate video with one of their relatives.
The source further reported that Junior was training to be a member of the New York Police Department and was a part of the NYPD Explorers program.
Mayor Bill de Blasio announced that Junior's memory would be honored by naming a part of the NYPD Explorers program after him.
Following the funeral, the family also visited the memorial outside the bodega where Junior was attacked to light candles in Junior's honor.
Please fill in your e-mail so we can share with you our top stories!